What is Lisk?
Lisk, in one sentence, is a cryptocurrency used by developers to make their own blockchain projects.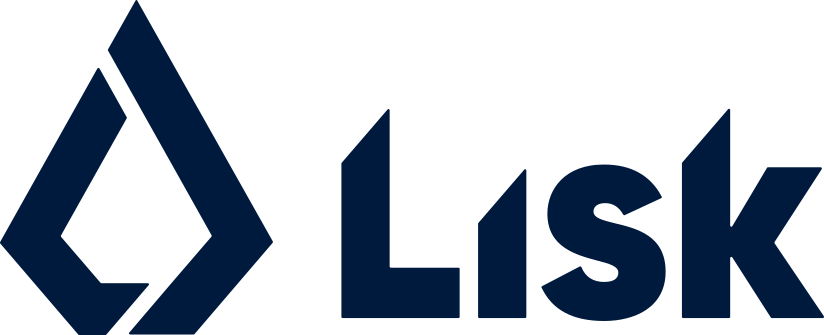 Some existing projects plan to revolutionise digital privacy, academic accreditation and music. 
In comparison to its competitors, Lisk appeals to the wider developer market with an easy-to-use sidechain platform. Sidechains are blockchains backed by the Lisk mainchain, but use different tokens. Lisk tokens can be converted to sidechain tokens, so the value of Lisk increases with the number of projects being run.

According to the official Lisk website, Lisk's vision is to "make blockchain technology accessible for everybody by building a blockchain application platform likewise for users and developers."
You can read more about Lisk's technology, properties and competition in our What is Lisk? guide.
1: Where to Buy Lisk
Lisk is behind the top blockchain projects in trading volume, so it isn't available on all exchanges.
The CoinMarketCap Lisk exchange list identifies the exchanges with the highest volume. High volumes often result in accurate prices and can facilitate larger purchases.

Unfortunately, all the exchanges that support Lisk are traditional exchanges. If you're used to the comfort of an over-the-counter exchange such as Coinbase or the flexibility of a peer-to-peer site, you'll be forced to learn how to trade on a normal exchange.
Thankfully, traditional exchanges provide quick transactions and often have lower fees.
If you live in the west, some options are:
Binance, an exchange run internationally so to not fall under one jurisdiction. Their locations include Tokyo, Shanghai and Malta. It is currently the top exchange by cryptocurrency trading volume.
Bittrex, a US-based crypto exchange. It only supports crypto-to-crypto trades, but has one of the longest and cleanest security records.
HitBTC is an old Hong-Kong exchange. It is better suited for traders working with cryptocurrency trades over $500.
Livecoin, Exrates, BitBay and Coinroom also have potential but are smaller exchanges on the whole. Although YoBit currently has the highest Lisk trading volume, it has ineffective customer support and there are claims that it is being investigated by the Russian Government. Similarly, we've followed CoinMarketCap and removed Bit-Z because of its 'trading mining' scheme. CoinEgg was removed because little information is available on its background and the site has only been partially translated out of Mandarin.
Exchange Fees
Cryptocurrency exchanges charge fees on all transactions, and some place them on deposits withdrawals. In fact, exchanges rake in billions of dollars from their small cuts on trades.
Fees can also skew the apparent Lisk trading price up or down.
Binance:
0.1% trading commisson
0.1 LSK (~$0.50) network withdrawal fee
Bittrex:
0.25% trading commisson
0.1 LSK (~$0.50) network withdrawal fee
HitBTC:
Note that the 0.1 LSK withdrawal fee is specified by the Lisk whitepaper, and applies to all Lisk transactions.
HitBTC doesn't state their Lisk withdrawal fee, so their 0.001 BTC Bitcoin withdrawal fee was used instead.
Lowest fees: Binance
Verification Requirements
If you feel uncomfortable handing over personal information online, then the identity verification requirements of each exchange is a key piece of information.
In addition to the potential for identity theft, the analysis of your Government ID can also take several days to complete.
| | | | |
| --- | --- | --- | --- |
| | Binance | Bittrex | HitBTC |
| Full name | ✔ (Level 2) | ✔ | ✔ (Verified) |
| Street address | ✔ (Level 2 | ✔ | ✔ (Verified) |
| Mobile number | ✔ (Level 2) | | |
| Email address | ✔ (Level 1) | ✔ | ✔  |
| City | ✔ (Level 2) | | ✔ (Verified) |
| Post code | ✔ (Level 2) | | ✔ (Verified) |
| Date of Birth | ✔ (Level 2) | | ✔ (Verified) |
| Identification document | ✔ (Level 2) | ✔ | ✔ (Verified) |
| Proof of residence document | | | ✔ (Verified) |
| Proof of bank account ownership | | | ✔ (Verified) |
A level 3 account on Binance and a PRO HitBTC account requires the completion of an additional form asking for more information.
A verified HitBTC account is used for fiat deposits.
Least verification requirements: Binance
Trading Limits
Binance:
0.01 BTC trading minimum
2 BTC daily withdrawal maximum for non-verified accounts
100 BTC daily withdrawal maximum for verified (level 2) accounts
Bittrex:
0.001 BTC trading minimum
$3,000 USD daily withdrawal maximum for basic accounts
1 BTC daily withdrawal maximum for verified accounts. 100 BTC daily if two-factor authentication is also enabled.
HitBTC:
0.01 BTC trading minimum
Unlimited withdrawal maximum; but users have reported issues when taking out very large amounts
Fiat Options
Bittrex has recently opened up an optional USD deposit and withdrawal option. Traders need to request permission before it is enabled on their account. Lisk buyers can use this service to deposit USD, trade it for Bitcoin and then get their Lisk. Hit BTC offers this service to verified users through Changelly.
Fiat options: Bittrex
Lisk Trading Pairs
Binance:
Bittrex:
HitBTC:
All three exchanges also have a wide variety of BTC trading pairs, so you can convert any other cryptocurrency you have for BTC to trade for Lisk tokens.
Most trading pairs: Binance and HitBTC
Other Features
Binance offers their own cryptocurrency which can be used to pay for fees on the platform. In the first year, the exchange is offering a 50% discount on fees for its use. You can purchase the Binance coin for Bitcoin on their exchange.
HitBTC has a margin trading system you can use if you're confident in your decision to buy. It's managed through a third-party application, and you'll have to complete another form to apply for it.
All three exchanges have web wallets on their site, so you can store your Lisk on the exchange if you don't want to withdraw it. Although this will cut back on fees you pay, cryptocurrency exchanges have a long history of hacks. Funds stored with a third party are never truly safe. If you've invested a large amount, move it to one of the wallet options listed in section 3.
Summary
| | | | |
| --- | --- | --- | --- |
|   | Binance | Bittrex | HitBTC |
| Low fees | ✔ | | |
| Easiest verification | ✔ | | |
| Trading minimum | 0.01 | 0.001 | 0.01 |
| Unverified trading maximums | 2 Bitcoin | $3000 | Unlimited* |
| Verified trading maximums | 100 Bitcoin | 100 Bitcoin | Unlimited * |
| Trading pairs | BTC, ETH | BTC | BTC, ETH |
| Fiat deposits | | ✔ | ✔ |
| Margin trading | | | ✔ |
| Web wallet | ✔ | ✔ | ✔ |
* HitBTC have reported issues withdrawing larger amounts. Some users suspect that there are unofficial withdrawal maximums.
All three of these exchanges are suited for different purposes. Binance has low fees and easy verificattion, but Bittrex has very low minimums and a fiat deposits. HitBTC's advantages are unlimited trading maximums and support for third-party marign trading.
Other Exchanges to Consider
Shapeshift.io is a high-fee cryptocurrency exchange that provides quick, painless transactions. However, Lisk has been 'temporarily unavailable' for several months. Changelly is a similar exchange that has offered Lisk in the past.
Coinswitch is a unique service that makes cryptocurrency swaps a breeze. It connects you to the exchange with the best Lisk price, and can even execute the trade for you.
2: How to Buy Lisk, Step-By-Step
Buy Bitcoin or Ethereum to Trade
No exchanges currently offer Lisk as a trading pair with any fiat currencies. Therefore, you'll need to purchase some Bitcoin or Ethereum to use.
You might:
Use a debit card or bank account to purchase either currency on Coinbase or another broker.
Make an exchange between cryptocurrencies you hold to Bitcoin or Ethereum on any exchange.
Find a peer-to-peer transaction on an escrow site such as LocalBitcoins to purchase Bitcoin through PayPal or for cash.
Buying Lisk on Binance
Step 1. Register for a Binance account.
Step 2. From the Funds tab, select Deposits and choose Bitcoin or Ethereum from the drop down. Transfer the funds from your wallet to the given deposit address. Bitcoin deposits will take 2 blocks (20 minutes after the block with the transaction) to be confirmed.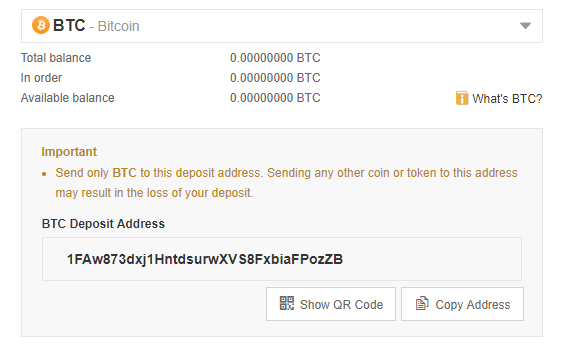 Step 3. Head to the exchange tab and find the LSK/BTC or LSK/ETH exchange. For a simple order, press Market and enter the amount of Lisk you want to buy. Press 100% to purchase as much as you can.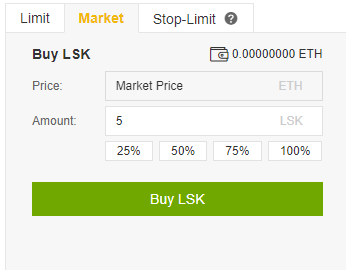 You can withdraw your Lisk from the Balances page under the Funds tab.
Buying Lisk on Bittrex
Step 1. Register for a Bittrex account.
Step 2. Provide Bittrex with some basic information to verify your account. You can do this from Settings → My Profile and Settings → Identity Verification.
Step 3. From the wallets tab, tap the green up arrow next to BTC and press 'new address'. Transfer the funds from your existing wallet to the address given. Alternatively, make a fiat deposit.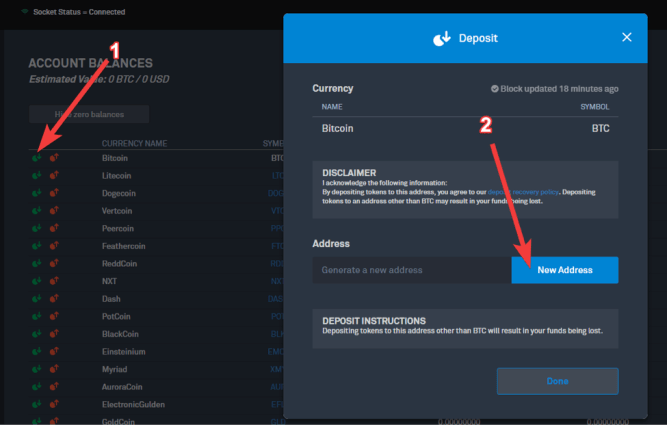 Step 4. From the Markets tab, find the BTC/LSK trading pair.
Step 5. Scroll down to the orders section. It's easiest to choose a limit order and set the bid price to 'Ask' from the drop-down. Then enter the quantity of Lisk you wish to purchase or enter your available Bitcoin amount and hit Buy Lisk.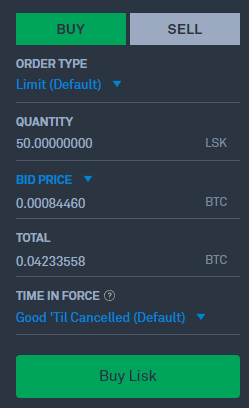 You can withdraw your Lisk to your own wallet from the Wallets tab by pressing the red down arrow next to Lisk on the wallets tab.
Buying Lisk on HitBTC
Step 1. Register for a HitBTC account.
Step 2. Head to the account tab and press the plus next to Bitcoin or Ethereum. A wallet address will be given for you to transfer funds to.

Step 3. From the Exchange tab, find the LSK/BTC or LSK/ETH markets from the instruments panel.
Step 4. Place your order from the Buy LSK panel. The easiest way is to submit a market order for the amount of Lisk you want to purchase.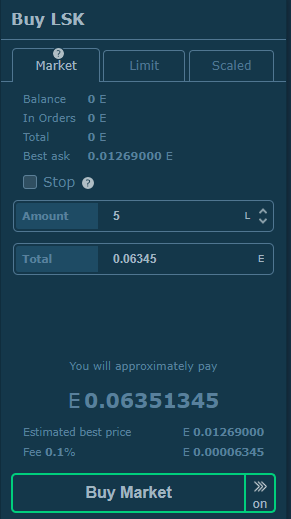 3: Where to Store Lisk
If you don't have plans to use your Lisk for a project, then there are three options for storing Lisk:
Advanced users can use the Lisk Core tool to open their own node.
If you choose an external wallet, enter the generated public key into the exchange's withdrawals page.
Comparing Wallets
Binance/Bittrex/HitBTC Exchange Wallet
When funds are left on an exchange wallet, the exchange has the responsibility of securing your funds. In many cases, crypto is split into multiple accounts, printed and then stored offline. The keys are often also encrypted and spread over multiple locations.
However, cryptocurrency exchanges have been hacked in a number of high-profile cases over the years, so it's recommended that you move funds out. Exchanges often fail to follow their own security procedures, and there have also been insider attacks.
Additionally, your individual account can be compromised. If you do choose to leave funds online, then make sure you enable two-factor authentication on your account.
Advantages:
Avoid transaction and withdrawal fees
No additional steps necessary
Ready to trade
Disadvantages:
Unsafe, as hacks on cryptocurrency exchanges are common
Cannot stake tokens
Lisk Hub
The Lisk hub is an official platform used to send, receive, stake and store Lisk tokens.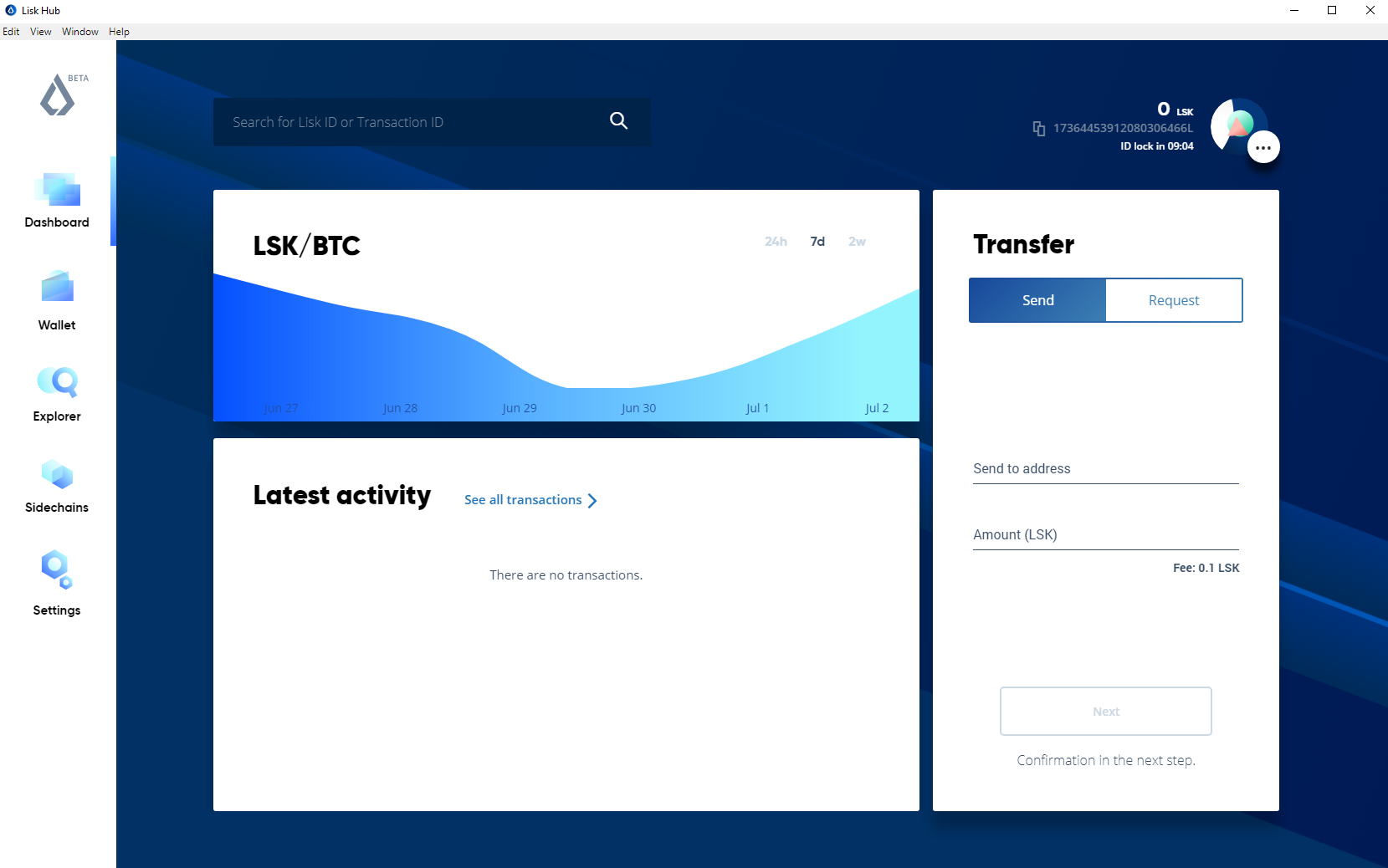 You can vote for delegates by enabling the tab from the settings menu. Some delegates redistribute network rewards to their voters, so you can potentially earn some extra Lisk tokens.
Advantages:
Safe on your computer
Secured through your passphrase
Stake your tokens and earn Lisk
Disadvantages:
Requires a download
Passphrase needs safe storage
No recovery options if your passphrase is lost
Lisk Paper Wallet
You can use the Lisk Paper Wallet to store your Lisk offline. The program is unofficial, so download the (open-source) program from their Github page and open the index.html file whilst you're offline. Once printed, delete the program.
The wallet contains your passphrase and public key in full, as well as QR code representations of each to use with a scanner.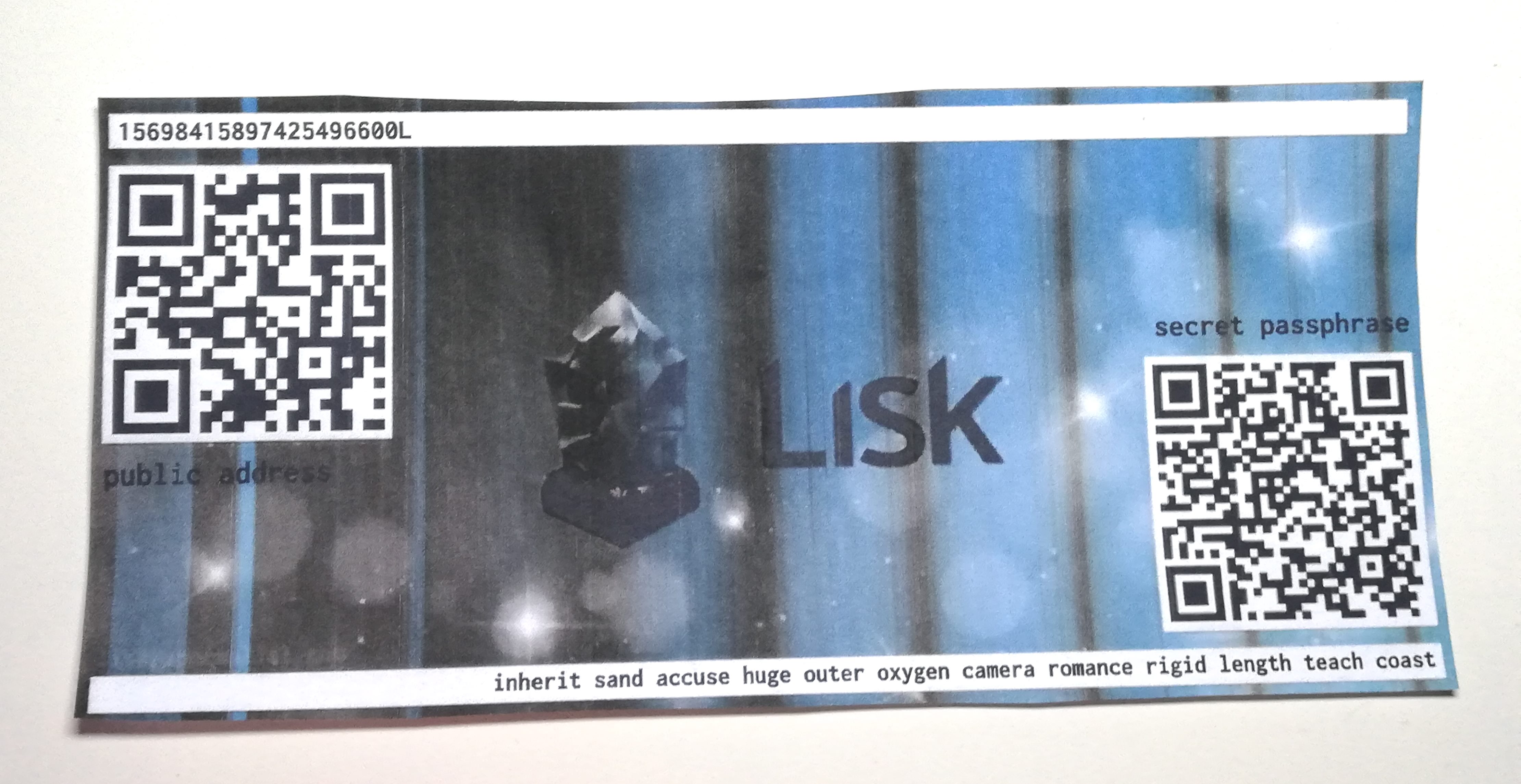 Advantages:
Unlimited copies of the wallet
Completely offline
Disadvantages:
Can't stake tokens
No recovery options if all copies of the wallet is lost
Unofficial program
Our Choice
Binance is a reputable exchange with astonishingly low fees and plenty of volume to accomodate your purchase.
Your funds could be stored on their web wallet, however the Lisk Hub will lower your risk of hacks and allow you to vote for delegates.