As the cryptocurrency space matured, cryptocurrency exchanges split into two groups:
Traditional exchanges, connecting buyers and sellers together like a stock exchange and charging a small fee on each transaction
Brokers, who set their own price make a profit either through fees or the difference between their buying and selling rate
CEX.IO combines these into one, rivaling the services of industry giant Coinbase.

Overview
CEX.IO is appropriate for both beginners and experienced traders. If you're new to cryptocurrency, you can use your debit card to buy and sell cryptocurrency through the brokerage service and don't have to dive in to any of their other offerings. Advanced traders will want to utilize the traditional exchange and margin trading services to cut fees and maximize earnings.
| | |
| --- | --- |
| Location | London |
| Founding year | 2013 |
| Brokerage Fees | Very high |
| Trading Fees | Moderate |
| Deposit and withdrawal fees | High |
| Volume | Low |
| Trading minimums | Around $20 |
| Deposit and withdrawal maximums | $1000 daily and $3000 monthly, increased with verification |
| Verification requirements | Moderate |
| Margin trading | Available with high fees |
| Platforms | Web, iOS, Android |
The platform has a long history and is well-established in the market, but now has very high fees and has fallen in popularity.
Service Breakdown
There's a happening on the CEX.IO website.
In the navigation bar, you'll see three tabs:
Buy/Sell: for buying or selling Bitcoin at the CEX.IO price. This is CEX's brokerage service, and you should stick to it if you're new to crypto.
Trade: for making market orders with other traders between trading pairs. This is the traditional exchange.
Finance: for managing your account and obtaining leverage.
History
CEX.IO was formed in London right back in 2013, but also operated a mining pool called GHASH.IO.
Cryptocurrencies require the processing power of thousands of miners to stay safe. A Bitcoin reward is given out when a miner manages to solve a complex mathematical problem that helps to validate the network.
Mining pools bring thousands of these miners together, and then split the reward based on the processing power its miners contribute.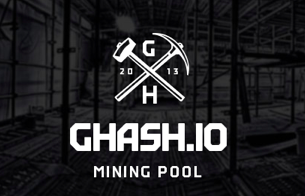 In 2014, the GHASH.IO pool held almost half of the Bitcoin mining power. This posed a serious threat to the stability of Bitcoin, as a majority can be used to manipulate the entire coin and create fraudulent transactions.
The community panicked and began to rapidly pull out of the mining pool. Talking to technology magazine Wired, CEX responded that they would "take all the necessary precautions to prevent reaching 51 percent of all hashing power", despite it being contrary to their business interests.
In 2015, the company closed the mining pool due to unprofitability, but continued as a cryptocurrency exchange. It now helps others to build mining pools, and its golden era in the mining industry are over.
Throughout all of this, their exchange continued to grow and improve. New cryptocurrencies have been added every year, and trading charts were implemented in 2015.
CEX has never been through a major hack.
Early Bitcoin users will know and trust CEX for their contributions to mining and long history, but it is currently a fairly small exchange.
Security Measures
In 2011, crypto exchange leader Mt. Gox was hacked, resulting in a loss of funds for everyone storing funds on the site. The hack resulted in Mt. Gox, which at the time was handled the majority of Bitcoin trading, falling into bankruptcy. Security has been a key marketing point for exchanges ever since, and CEX.IO is no exception.
On its front page, CEX reveals that it has "protection against DDoS attacks, full data encryption (and is) compliant with PCI DSS standards".
Their site also reveals that they have "cold storage for cryptocurrency funds" and that the company has "a strong relationship with banks", but doesn't go much further.
CEX.IO follows English regulations and has a license to hold personally identifiable information and debit card numbers.
Overall, CEX seems to be following the industry standards and has a long history, so there's little chance of an exit scam.
Regardless of CEX's efforts, make sure that you enable two-factor authentication, keep as little funds in the site as possible and move funds to a cold wallet to avoid a hack.
Verification Levels and Trading Limits
If you don't like handing over too much personal information online, CEX.IO might be a good option. New accounts only require an email address and have $1000 USD daily and $3000 USD monthly deposit and withdrawal limits, though they can only deposit and withdraw fiat through the high-fee debit card options. They also have limits on the size of individual deposits and withdrawals.
You can increase these limits and open up bank transfer and Crypto Capital options by verifying your account. This will require your:
Passport, identity card or driving license
If you get confused at any point, there's a highly comprehensive guide on the verification process provided by CEX.
If you are reaching the limits the verified account, you can obtain a verified plus account. Some users have reported that the verification process is difficult and can take months, but it will open up your limits.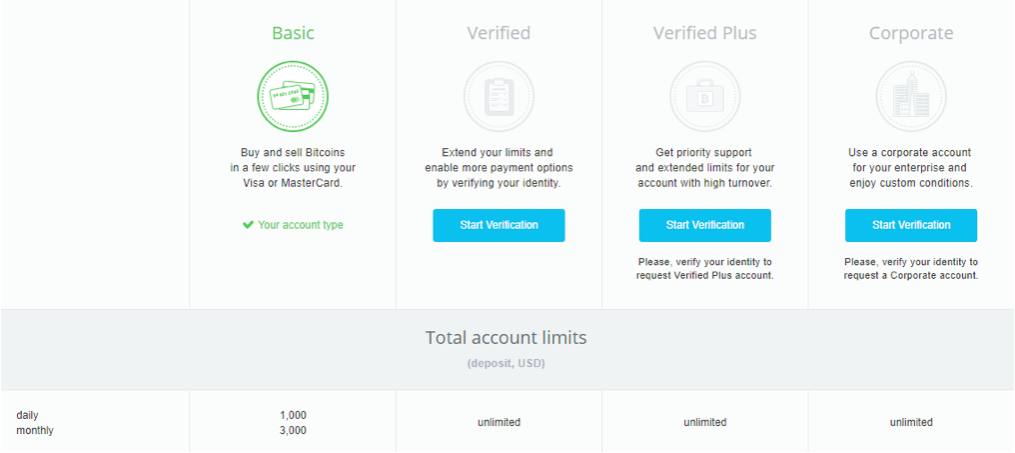 If you're in need of high trade limits right away, CEX.IO isn't for you.
Supported Currencies
CEX.IO trades the top few coins, including Bitcoin and Ethereum. They frequently add and remove currencies, but have around 10 to trade. Cryptocurrencies are paired with USD, EUR, GBP, RUB and Bitcoin, but not all coins have all five pairings.
Don't expect to find any secluded altcoins on CEX, or make any trades between altcoins without going through another currency first.
You can also find the legacy GHASH.IO tradable hashing power on the exchange, listed as GHS for Gigahashes.
Deposit and Withdrawal Options
CEX.IO will let you deposit and withdraw the four fiat currencies as well as all the cryptocurrencies. For some cryptocurrencies, you will need to enable two factor authentication before you withdraw.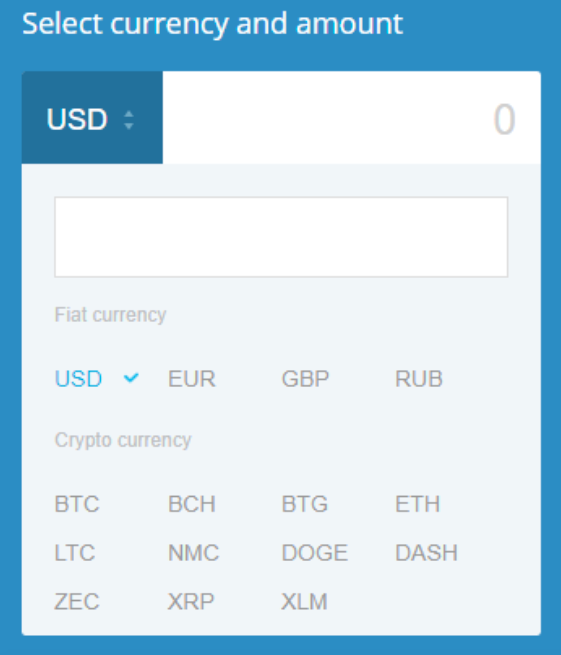 Fiat currency deposits can be made by debit card, bank transfer or Crypto Capital. Withdrawals are the same, but you cannot request deposit to your bank account.
New accounts also cannot withdraw funds for the first 48 hours or until the account is verified.
Fee Summary
The fees on CEX.IO are incredibly high. Simple transactions can end up with over 10% in fees. CEX charge substantial fees on just about everything: VISA and MasterCard deposits and withdrawals, trading, exchanging and cryptocurrency withdrawals.
CEX.IO might be convenient, but their fees are substantially higher than dedicated traditional exchanges like Kraken, Poloniex and GDAX.
Buy/Sell Fees
On the buy/sell brokerage service, Fill-Or-Kill (FOK) orders can be made on Bitcoin and fiat conversions. CEX.IO charges a whopping 7% fee for this, higher than most brokerages.
Trading Fees
The fees on the traditional exchanges come in stark contrast to those on its brokerage service. If you enter the orders yourself, you can reduce the fees to almost nothing.
Like most traditional exchanges, CEX charges different fees based on whether you are a maker or a taker. Makers put up a trade that nobody is currently willing to accept, then takers go through with them.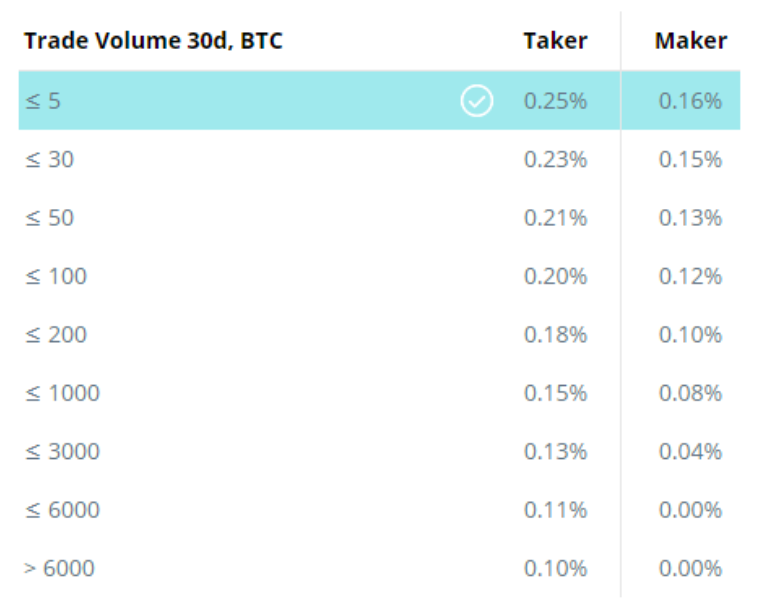 The fees are always lower for makers, and your fee is lowered if you have traded a substantial amount of Bitcoin equivalent in the past 30 days. You can see the fees your account will incur on the fee schedule page.
Fiat Deposit & Withdrawal Fees
CEX.IO is one of the few traditional exchanges that will accept debit card deposits, but it comes at the cost of a 3.5% and $3.80 commission.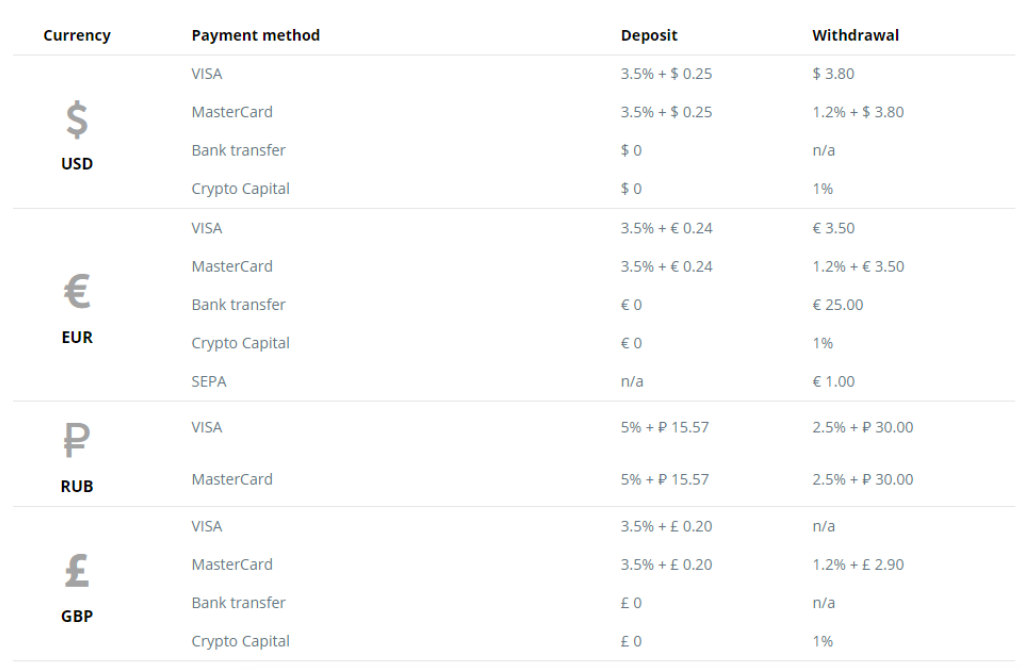 Although far from instant, making a bank transfer or Crypto Capital transaction will bring costs back down to reasonable levels.
Cryptocurrency Withdrawal Fees
Most exchanges only charge the network fee to withdraw cryptocurrency, but CEX.IO charges a much higher rate. This means you can't avoid the $3.80 USD commission charged on fiat currency withdrawals by trying to withdraw crypto instead.
The withdrawal fees are unclear, and fluctuate wildly depending on the cryptocurrency you withdraw. In a test, the Dogecoin fee was under a cent, but withdrawals of Bitcoin were a whopping $5 when the median network fee was only 40 cents.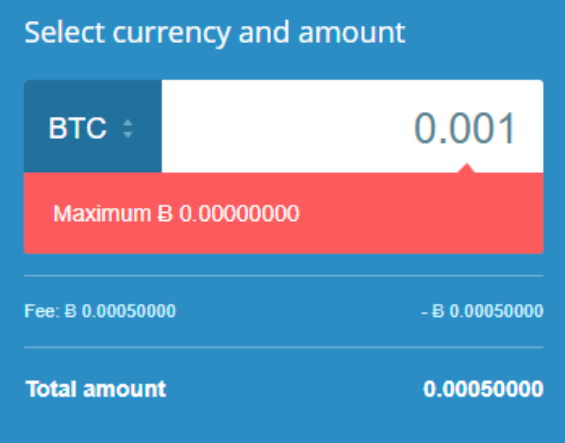 The flat fees make trading smaller amounts quite costly.
CEX.IO claims that the cost is so high because management are "concern(ed) with considerable growth of BTC price and consequently the Blockchain fee", but it is still much higher than other traditional exchanges.
Cryptocurrency Price
CEX.IO offers a competitive price on all cryptocurrencies because its traditional exchange keeps the price close to the market average. As the buy/sell section makes an order on the traditional exchange, you'll receive the same price there.
CEX doesn't rank too high based on trading volume, 78th at the time of writing, so be wary that it might take longer than usual to fill orders or for the price to update to the market average.
If you notice that the price on CEX.IO is a few dollars higher, it's likely because of the high cryptocurrency withdrawal fees explained above.
Trading Minimums
Although you can deposit any amount of cryptocurrency, CEX has a $20 USD minimum throughout most of the website that applies to debit card deposits and withdrawals, as well as in the BTC/USD trading pair.
Although some other altcoins have lower minimums, there is a $5-$15 USD minimum withdrawal limit on most cryptocurrencies.
Margin Trading
If you're an advanced trader, you can get more capital for an investment you're confident on through CEX.IO's margin trading system.
To grab some extra profit from the growth of a cryptocurrency, you can open a long position and borrow cash from CEX for a small fee. If you believe the price will fall, you can open a short position and 'borrow' some crypto and sell it back to CEX later at the lower price.
If you're new to trading, margin trading is not recommended because fees are charged for the duration of your position. There's a huge 0.2% fee for opening the position and then a 0.01% recurring fee every four hours to maintain it.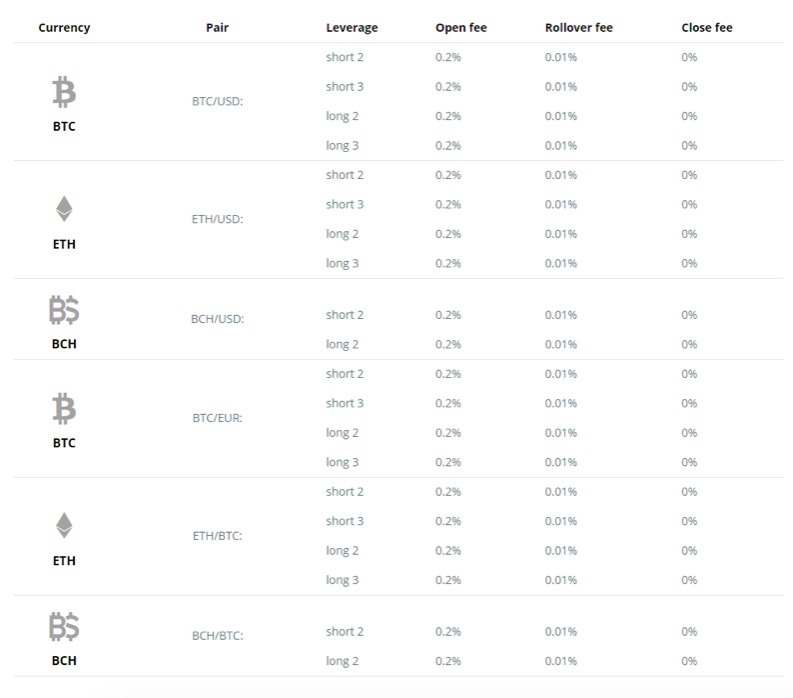 The fees are substantially higher than other sites with margin trading, so it shouldn't be the reason you choose CEX.
Trading Volume
With a fairly low trading volume, the speed of transactions becomes a serious concern. Even in staple exchange pairs such as BTC/USD, up to 10 minutes can go by without a transaction.
If you're looking to trade crypto for short periods of time and time the market, then CEX's volume might not be enough to let you do what you want.
Deposit Speed
Cryptocurrency deposits can also take some time. CEX waits for three blocks in order to verify Bitcoin transactions, so it will take 30 minute before you can use it.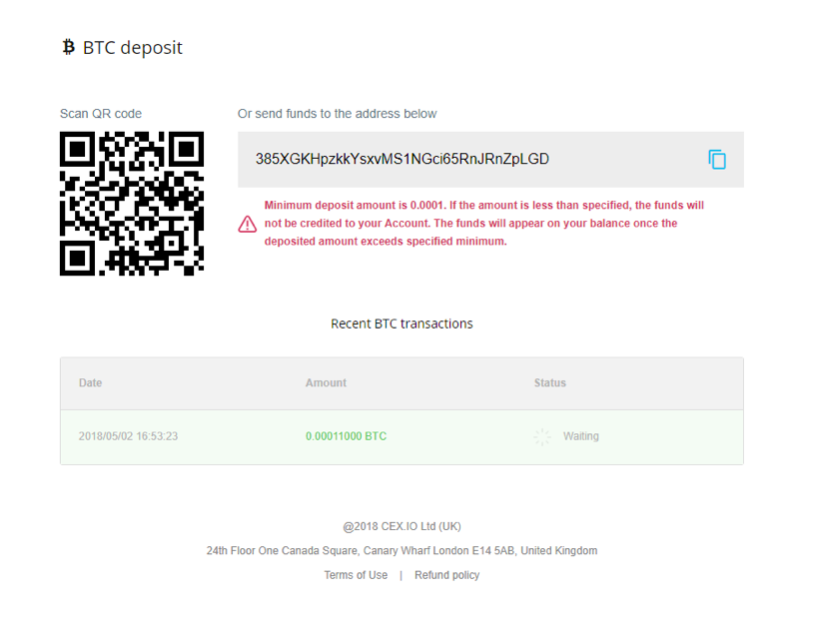 App Review
If you're interested in trading from your mobile, then you can try the CEX.IO mobile app. You can:
See the Bitcoin price on the major exchanges
Use the CEX.IO brokerage service
See basic CEX.IO market information
Deposit and withdraw funds
The only things you'll be missing out on are margin trading and price graphs.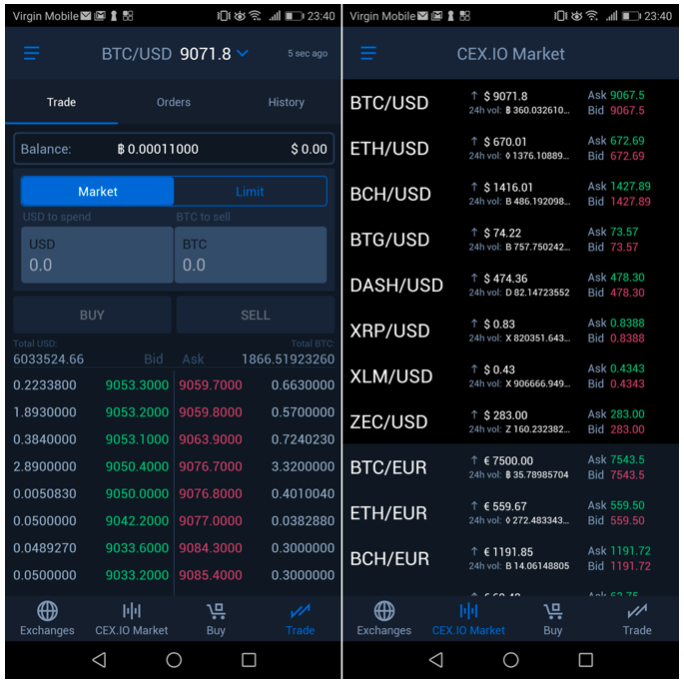 The app is fast, lets you set up a personal PIN code and has frequently updated prices. There are some issues with the interface, particularly in the balances tab, but all the functionality is there.
Comparison to Coinbase
If the services of CEX interest you, then also take a look at Coinbase, a similar popular exchange. Coinbase offers debit card deposits and withdrawals, a traditional exchange through GDAX, margin trading and a mobile app.

Advantages over CEX.IO:
Lower fees for debit card deposits and withdrawals, cryptocurrency withdrawals and their Bitcoin brokerage service
A huge amount of volume on their exchange
Access to the Shift cryptocurrency debit card
Highly rated app with cryptocurrency trading functionality and price alerts
Disadvantages:
Only four cryptocurrencies
Two different websites,

Coinbase.com

for brokerage and

GDAX.com

for the traditional exchange, though transfers between the sites are free
No trading on traditional exchanges on the app
Poor customer service record
The Bottom Line
CEX.IO provides all the functionality you could ever want out of an exchange, but its high fees are a serious drawback.
Although it provides solid service, none of their offerings are the best in the market. Their brokerage and debit card fees are large, small traders are hurt by high cryptocurrency withdrawal fees and the exchange doesn't have enough volume to support big traders.
CEX.IO is a safe, long-standing and fair exchange, but there isn't much reason to use it because of its higher fees.