Key Differences
| | | |
| --- | --- | --- |
| | Coinbase | Kraken |
| Founding year | 2013 | 2013 |
| Location | California, United States | California, United States |
| Fees (overall) | High | Very low |
| Transaction fees | Moderate | Very low |
| Withdrawal fees | Only the cost to the exchange | Only the cost to the exchange |
| Deposit fees | None | Very low and limited |
| Trading interface | Simplistic & intuitive | Complicated but highly informative |
| Currencies | 4 cryptocurrencies, some fiat currencies | Around 10 cryptocurrencies, some fiat currencies |
| Deposit limit | Low, increases over time | Almost none apart from for fiat deposits |
| Deposit options | Bank transfer, wire transfer, debit card | Wire transfer |
| Withdrawal limits | Low, automatically calculated and increases over time | $2,000 daily, $10,000 monthly. Increases with verification tier |
| Verification requirements | Reasonable | Difficult, but done in tiers |
| Customer support | Slow | Fast and offers a beginner's guide |
| Margin trading | Not available | Available, finance through Kraken |
| Platforms | Web, iOS, Android | Web, iOS |
| Fund security | Strong | Strong |
Use Coinbase if:

You are new to cryptocurrencies
Use your mobile to trade
Want to buy or deposit from a bank account or debit card
Use Kraken if:

You are a mode advanced trader
Want to buy and sell cryptocurrencies for short time periods
Want competitive fees
Types of Cryptocurrency Exchanges
There are three main types of cryptocurrency exchanges:
Traditional exchanges connect buyers and sellers to each other with the exchange as a temporary middleman, charging a small fee for each transaction.
Cryptocurrency brokers set their own cryptocurrency buying and selling prices, making a profit through the price difference or through fees.
Peer-to-peer exchanges list and connect cryptocurrency buyers and sellers, presenting their transaction history, prices and preferred payment method.
Kraken is a traditional exchange, with a formal trade platform that can be used to day-trade cryptocurrencies with other buyers and sellers. On the other hand, Coinbase is a broker and sets their own Bitcoin price based on the market then charges large fees.
In general, traditional exchanges are less accessible and will take some time to learn, but will offer you much better prices and lower fees.
Fee Summary
Kraken offers much lower trading fees than Coinbase, but have similar withdrawal costs and don't have any direct deposit fees.
Transaction Fees
Transaction fees apply whenever you buy or sell cryptocurrency on an exchange.
These fees are variable to your location and the cryptocurrency you are trading in, so you should check the Coinbase and Kraken fee schedules.
Coinbase fees range from 2-4% and are added on top of the amount charged on a purchase or deducted from the amount owing from Coinbase when you sell.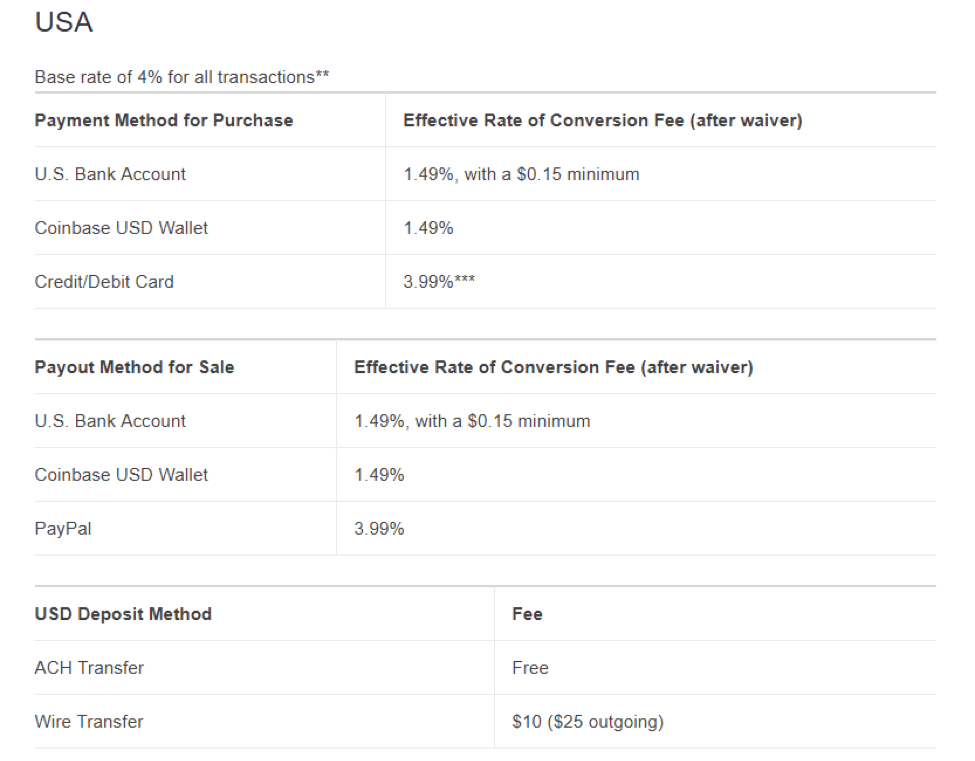 Being a traditional exchange with experienced traders as well as in competition with other exchanges such as Poloniex, Binance and GDAX, Kraken's fees are about as low as they come.
Kraken's fees are based on which cryptocurrency and fiat currency you are trading between, your trade volume and whether you are a maker or a taker. Makers put up a trade that nobody is currently willing to accept, then takers go through with them.
Kraken's fees are below 0.30% for both parties and are always lower for makers.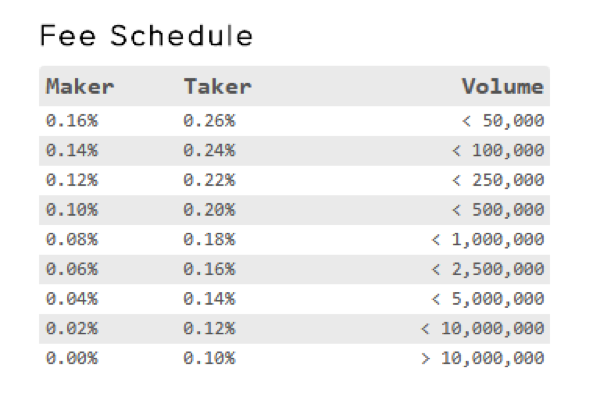 Withdrawal Fees
Sending cryptocurrency takes up mining resources, so there is a small fee associated with withdrawing cryptocurrency from both sites.
Kraken and Coinbase use algorithms to decide on a reasonable transaction fee based on indicators such as the median Bitcoin transaction fee, so take a look at the current mining fees before you withdraw and cryptocurrency.

Cryptocurrency Price
The price of Bitcoin and other cryptocurrencies are quite similar.
Kraken has thousands of traders that keep the price moving exactly with the market, whereas the Coinbase price is based on market averages and may vary slightly.
However, the price difference is negligible when fees are considered. If you want the best price, then Kraken will consistently outperform Coinbase.
Supported Currencies
Cryptocurrencies
Unfortunately, if you're after a wide variety of cryptocurrencies to buy and sell neither Kraken or Coinbase will be for you. Instead, take a look at Binance and Poloniex.
Kraken offers around 10 cryptocurrencies including Bitcoin, Ethereum, Ripple, Bitcoin Cash and Litecoin spread across a little over 50 exchange pairings.
Coinbase is ever more limited and has only ever offered Bitcoin, Bitcoin Cash, Ethereum and Litecoin. These are the main currencies for cryptocurrency payments, but if you want to get a hold of some altcoins you're going to make another trade on a different platform.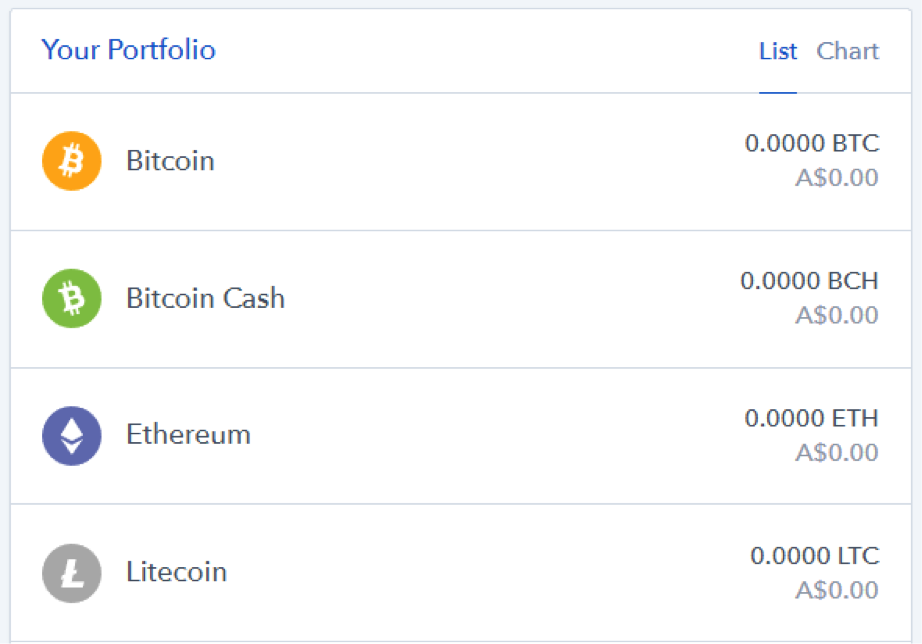 Fiat Currencies
Kraken and Coinbase are industry leaders in crypto to fiat currency trading.
Coinbase will let you deposit and withdraw a range of local currencies, including US Dollars, Euros, Great Britain Pounds, Australian dollars.
You can deposit through a bank account, debit card or make a wire transfer, but can't withdraw to a debit card.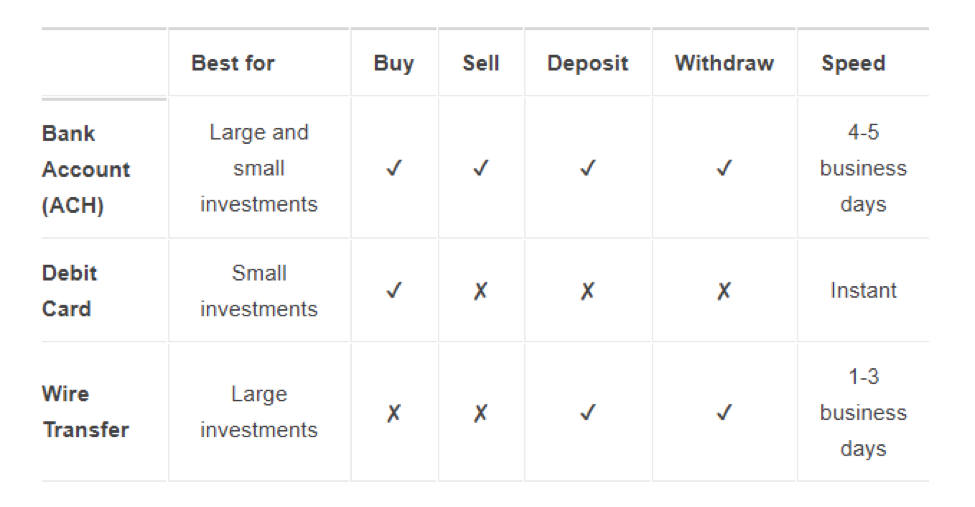 Kraken supports US Dollars, Euros and Great Britain Pounds and Japanese Yen. However, not all of these currencies can be used traded for every cryptocurrency. For example, Japanese Yen is currently only available with Bitcoin, Ethereum, Ripple and Zcash.
Deposits and withdrawals are made through wire transfers only.
Verification Requirements
| | | |
| --- | --- | --- |
| | Coinbase | Kraken |
| Full name | ✔ | ✔ (Tier 1) |
| Street address | | ✔ (Tier 2) |
| Country | ✔ | ✔ (Tier 1) |
| Mobile number | ✔ | ✔ (Tier 1) |
| Email address | ✔ | ✔ |
| Date of birth | | ✔ (Tier 1) |
| City | | ✔ (Tier 2) |
| Post code | | ✔ (Tier 2) |
| Identification document | ✔ | ✔ (Tier 3) |
| Proof of residence | | ✔ (Tier 1) |
Trading Limits
Kraken's trading limits work on a tier based system. A tier 1 account can withdraw $2,000 daily and $10,000 monthly, but you can increase to unbounded deposits and $500,000 monthly withdrawals if you provide Kraken with enough verification information. See the table in verification requirements above for the documentation needed in each tier.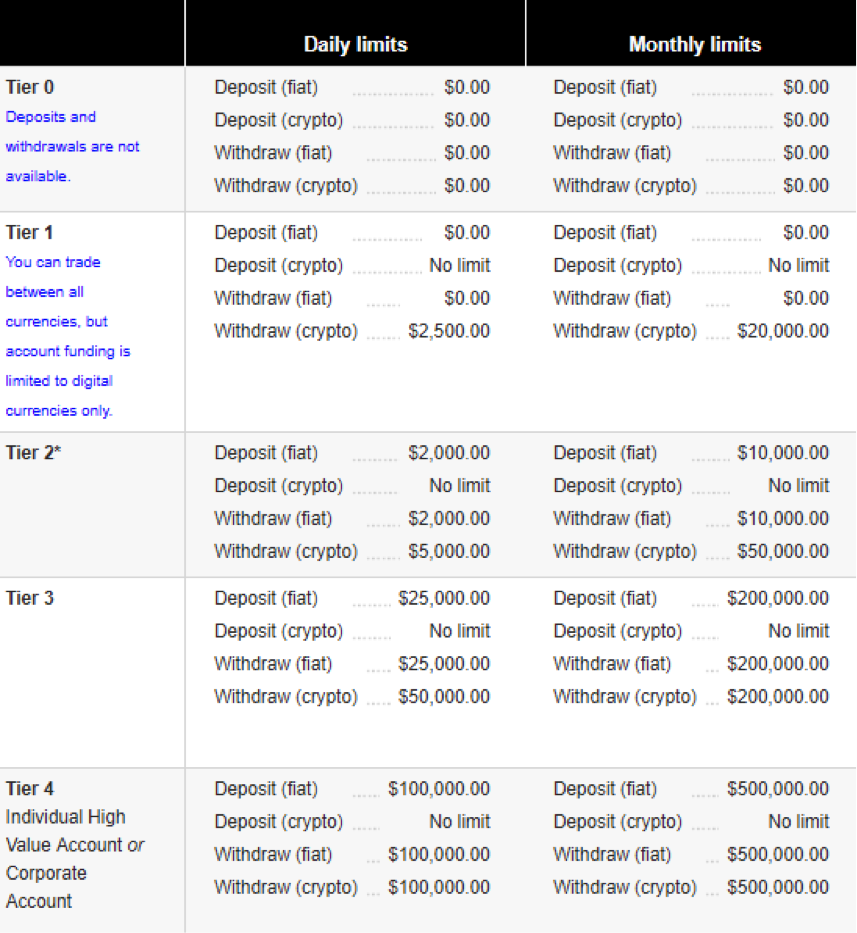 However, trading limits is a large drawback of using Coinbase. Your weekly purchasing and selling limits vary depending on your location and payment time, but could be as low as $50.
Coinbase limits are automatically calculated and there is no way to increase them apart from providing all verification and actively buying and selling on the site.
Customer Support
Unlike most traditional exchanges, Kraken is known for having fairly reliable customer support. If you're new to the crypto space and think that you might run into a few problems handling a full-fledged exchange, you'll have the backup of the Kraken support team.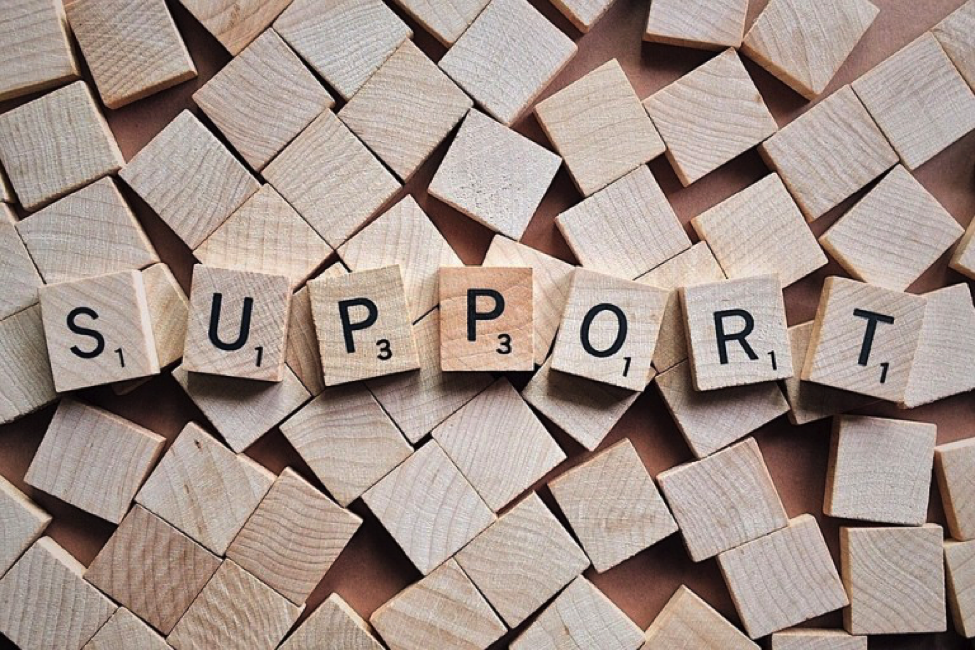 Coinbase has a disastrous customer support track record. Their Trustpilot score is one star after over a thousand reviews and it's possible that you won't receive an email reply in weeks. The Coinbase email response system almost always has a notice that their service is overloaded.
If you choose Coinbase, keep in mind that there is also a 24/7 mobile hotline and a new online help bot, which might provide some relief.
App Reviews
If you're a frequent mobile user, then you'll be happy to know that Coinbase and Kraken two of the few exchanges that have mobile apps.
Kraken iOS App
The Kraken app, available for free on iOS, lets you keep track of the markets and your position whilst you're on the move.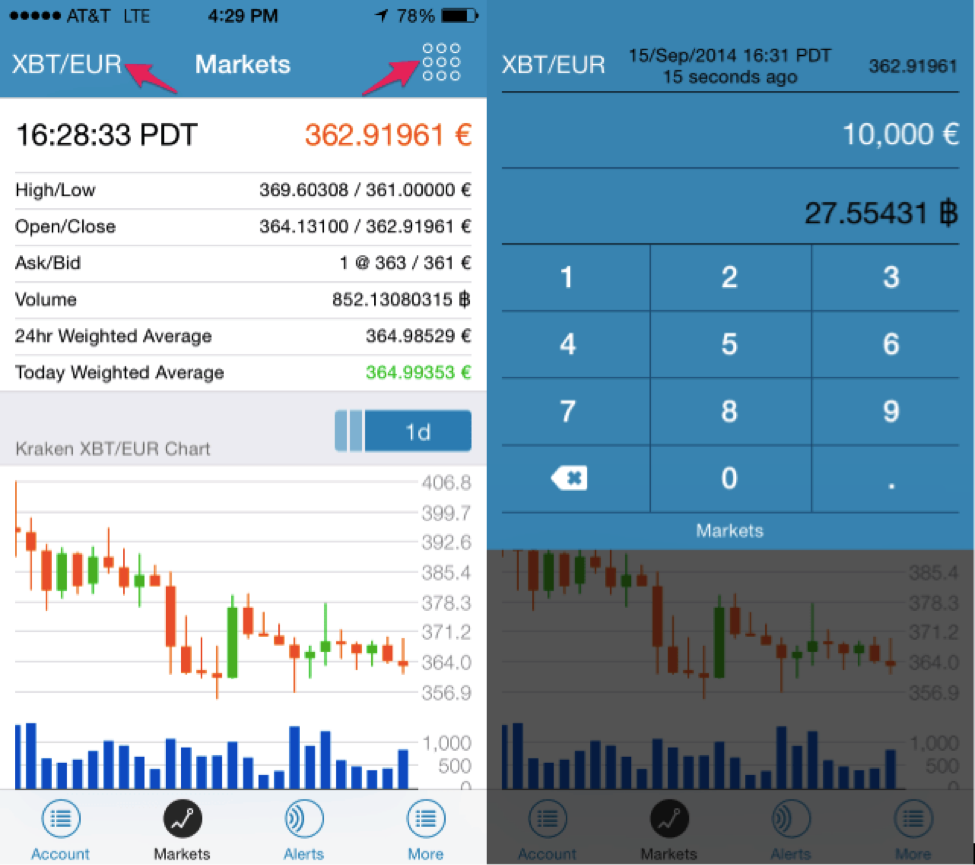 From the Kraken app, you can:
Track the Kraken exchanges
Create orders
Make quick fiat to crypto calculations
Read the cryptocurrency news
Unfortunately, the app has been highly criticized on the App Store, with a score of one out of five stars due to inaccurate prices, graphs not loading and a poor user interface.
Instead, the mobile version of the Kraken website works well. It's just a zoomed-out copy of the full-size site, so you'll just need to zoom back in to navigate it.
Coinbase App
Available on iOS and Android, the Coinbase app helps you monitor the Coinbase prices of the four cryptocurrencies it supports and lets you set up price alerts when your selected currency falls above or below your set markers.
If you have a payment method connected to your Coinbase account, you can also buy and sell crypto straight from the mobile app.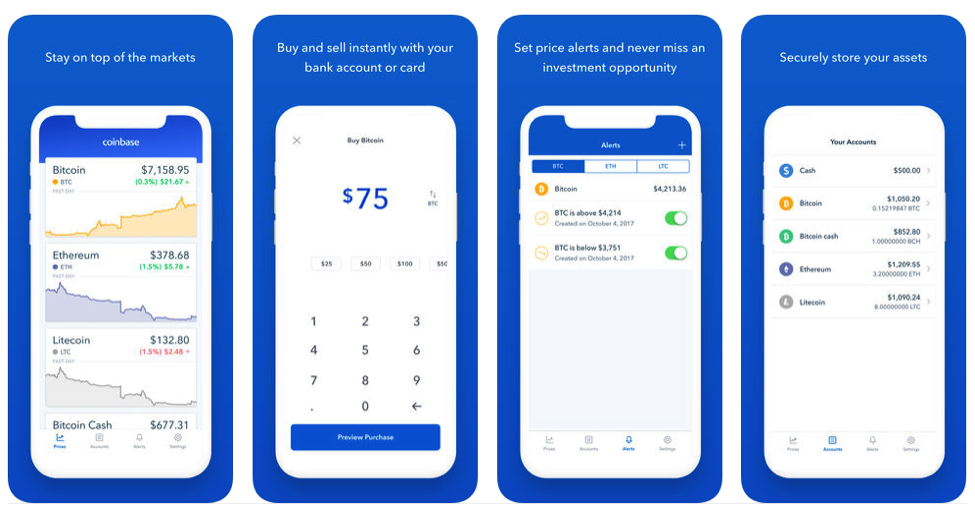 The app is intuitive, fast and has all the functionality of the website. Its reviews are nearly universally positive, apart from some users who are upset with the Coinbase service.
Out of all the cryptocurrency apps I've ever used, this one loads the fastest and always provides an accurate price.
Background and Location
Kraken
Founded in 2011 but opening its doors in 2013, Kraken is one of the oldest Crypto exchanges.
The Kraken team is US based and the company is officially registered in San Francisco, California, so you can expect them to be following US industry guidelines and react to US rulings regarding cryptocurrency.
Kraken has run three rounds of funding, bringing in prominent angel investors such as Roger Ver and ex Facebook employee and BitGo CTO Ben Davenport. They're also backed by firms including Japan-based Money Partners Group and Blockchain Capital.
If you're still curious about Kraken, they have an interactive timeline of their development up to see.
Coinbase
Coinbase has an incredibly similar history. Also founded in 2011 and remarkably also in San Francisco, Coinbase has been on the same rollercoaster ride on Kraken.
They clearly state the legislation they follow and the regulation they face on their website.
Across four major funding rounds, Coinbase has attracted attention from a variety of international investment firms and angels. In their most recent funding round, Coinbase was the first in the cryptocurrency space to break the $100 million mark and have since been involved in some of the biggest acquisitions in the market.

They haven't experienced any major hacks, but that doesn't mean that their accounts are impenetrable.
Fund Security
Coinbase and Kraken are both transparent about how they store and protect your funds.
Coinbase holds less than 2% of their funds online and the rest is encrypted and stored in cold, offline storage where physical access to the data is needed to steal it.

Those funds are fully insured, encrypted and spread across multiple locations to ensure its safety.
Kraken also proudly rest security fears by explaining that their funds are in offline storage with everything from "armed guards, video surveillance and retina scans" to full monetary reserves to prevent bank runs.
Note, Kraken is sensitive to international regulation and frequently changes fiat currency deposit and withdrawal caps, sometimes removing fiat currency pairings with Bitcoin altogether. For this reason, it's a good idea to withdraw fiat currency from the site unless you plan to trade with it.
Kraken is widely trusted, even by the courts. Following the Mt. Gox exchange hack, Kraken was given the responsibility of helping to reimburse Mt. Gox customers by the bankruptcy courts. You can still submit claims for the hack on the Kraken website today.
Regardless of which exchange you choose, make sure to enable all available account security features, such as two factor authentication, no matter the amount you're holding. Account hacks in cryptocurrency exchanges happen across exchanges and there's no shortage of people who have had their accounts emptied.
Despite these efforts, most in the industry suggest users with invested cryptocurrency that won't be withdrawn in the near future send funds to their own cold wallets to improve security.
Wallet Comparison
If you're after an exchange that can hold your funds for you, the strong track records of Coinbase and Kraken make them quite appealing.
Coinbase will only hold Bitcoin, Bitcoin Cash, Ethereum and Litecoin, but you can hold any of the currencies for which there are trading pairs on Kraken, which is over twice as many.
The only other key difference between holding the coins is the Coinbase mobile wallet. If you want to keep up with your currency on a daily basis, the Coinbase app's price charts will let you quickly check up on your position.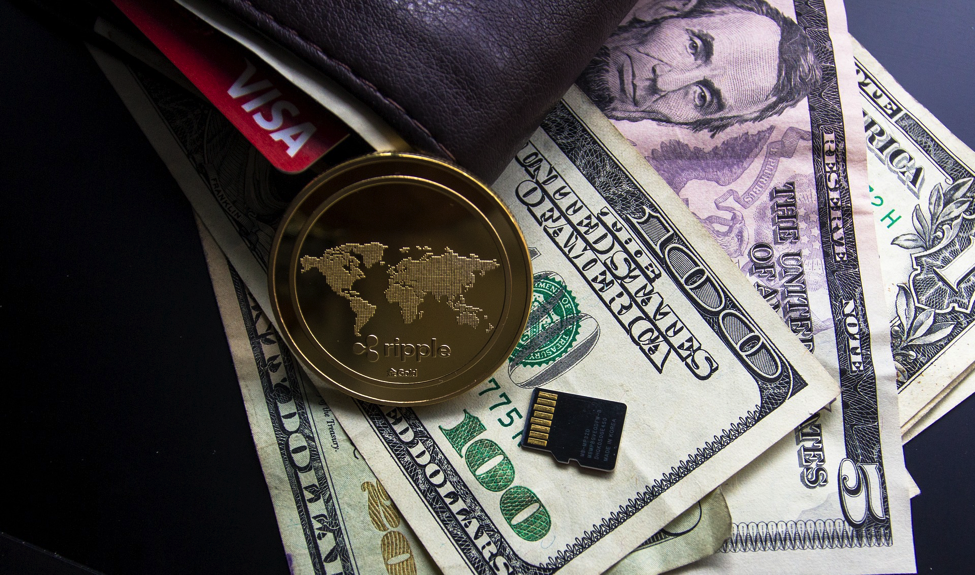 Otherwise, the wallets are incredibly similar and both still suffer from the typical disadvantages of 'hot' online wallets: the need to trust a third party, have an internet connection and potential account hacks.
Margin Trading on Kraken
If you're a risk-tolerant trader, you might find Kraken's margin trading system interesting.
If you haven't heard of it before, margin trading works by lending money so that you can improve the profits on a trade you're sure of.
Unlike some other exchanges, Kraken's funds for margin trading come from Kraken's operating account. You'll be charged a flat fee of 0.01% for opening a position, then another 0.01% per four hours your position is open. This fee is twice as high on a few trading pairs.

To learn more about margin trading on Kraken, read their leverage and margin trading guide and the terminology used.
Coinbase Debit Card
If you're keen to spend your cryptocurrency in everyday life, then the Coinbase Shift card can replace your existing credit or debit card.
The card links up your Coinbase account to a VISA debit card, so you can spend crypto in most stores.
You can learn more about the service in our Coinbase vs BitPay comparison and order it for $10 on the Shift website.
The Bottom Line
Both Kraken and Coinbase are excellent cryptocurrency services. If you're just getting into cryptocurrency, then Coinbase is perfect. If you're already comfortable with crypto, then leaving Coinbase for Kraken's lower fees and advanced trading options will give will refine up trading game.
Other Exchanges We've Compared
There are a few other coin and token exchange guides that we have published, in case you aren't quite set on Coinbase or Kraken:
Top Coinbase Alternatives: Here's a good round-up of the best alternatives to Coinbase
Kraken vs Poloniex: IF you are considering Kraken for the pairing options, Poloniex is another comparable exchange worth checking out.