BitPay and Coinbase have long been expanding and competing in the cryptocurrency space. Currently, they both offer wallets, payment processing for online merchants and VISA debit cards.
Wallet Comparison – Digital with BitPay or Online with Coinbase?
Both BitPay and Coinbase offer internet connected ('hot') wallets to store your Bitcoin and other cryptocurrencies.
Specifically, Coinbase allows you to store them on their exchange's website, Coinbase.com. Alternatively, BitPay offers a digital download for their wallet for all modern operating systems and mobile devices.
Both are easy to use and guide you through the process of using the wallet, so the difference comes down to more than how experienced you are with cryptocurrencies.
Security
If you're choosing between leaving your coins on the Coinbase exchange website and moving them to one of your devices, your largest concern rests with the security of the coins.
The 2013-2014 Mt. Gox exchange Bitcoin hack provides a clear warning of the risks of web wallets. The exchange fell into bankruptcy and millions of dollars of Bitcoins were lost.
Since then, Coinbase has taken over Mt. Gox's dominant market share and is determined to not make the same mistake. One of Coinbase's central values since the crash has been their security procedures, and it shows.
Coinbase has introduced measures such as:
Encrypting the data with AES-256, which cannot be feasibly reversed
Introducing two-factor phone authentication
However, trusting third parties to manage the private keys associated with your bitcoin still poses more general security risk.
On the other hand, BitPay's desktop wallet moves the risk exclusively to the security of your computer. Thus, downloading the wallet, an antivirus program and setting up two-factor authentication with your phone will almost guarantee its security if you keep your computer free of malware.
As the code of the wallet is open-source, it's difficult for developers to sneak in unwanted code to steal currency, too. You can ensure the security of your coins even further by creating an offline ('cold') backup and leaving it somewhere physically safe.
Despite the extensive efforts of Coinbase, it's probably better to take the time and trust yourself to keep your coins safe in a software wallet such as BitPay's.
Security winner – BitPay
Convenience
Both wallets are lightweight and easy to use, allowing you to send and receive cryptocurrencies without meddling with any technical aspects.
However, leaving Bitcoin in a Coinbase wallet so you can readily transfer it back to fiat (regular) currency is where Coinbase's system shows its strength. If you wish to swap your Bitcoin for USD or another major fiat currency, you can do it easily if you have it in the Coinbase wallet.

Leaving funds in your Coinbase wallet makes cryptocurrency easy to buy and sell.
As if this wasn't enough of an advantage, coins in the Coinbase web wallet can be transferred to Coinbase's traditional exchange, GDAX, for free. So if you're interested in trading, this could be an option worth considering.
With immediate access to GDAX and the Coinbase exchange, the Coinbase wallet is just the most useful place to leave Bitcoin.
Convenience winner – Coinbase
Fees
Sending your Bitcoin will come with a mining fee variable with the speed at which you wish the transaction to be processed. As the fees are external to the wallet, they're ultimately the same for both platforms but the preferences of your order can be optimised.
The BitPay wallet allows you to select between five settings to customise your preferred speed and cost.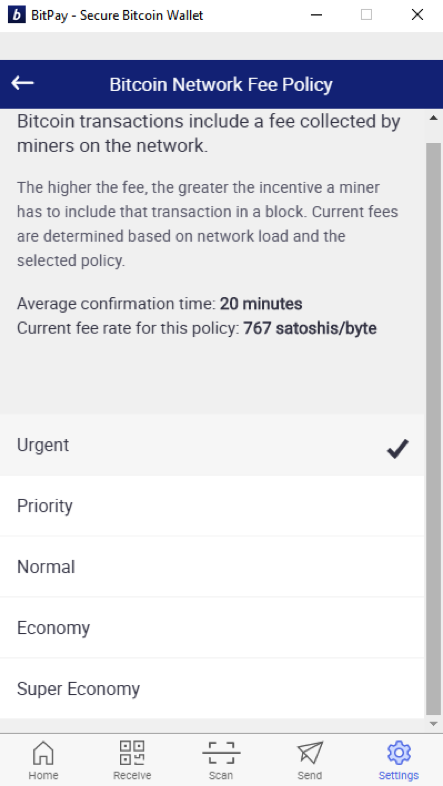 From the settings window, the BitPay wallet makes it simple to optimise your mining fees. From here, you can view the cost and estimated conformation time of your transaction, and adjust it as you see fit.
However, Coinbase offers no such solution and uses an algorithm to find a balance for you. Not having this flexibility could be costly if you want to move coins between your personal wallets instead of for payments and limits how you use your cryptocurrency.
So, with increased flexibility, BitPay is the clear winner.
Fees winner – BitPay 
Currencies
The BitPay wallet is limited when it comes to the coins it can store, supporting only Bitcoin and Bitcoin Cash. However, Coinbase also supports Ethereum, Ethereum Classic and Litecoin. This is only an advantage if you plan to use these currencies, but if you do then it's a sure win for Coinbase.
Currencies winner – Coinbase
Summary
If you've just bought some Bitcoin through Coinbase, then the only reason to leave them in the Coinbase wallet is for convenience. The BitPay software wallet will give you give you more flexibility in choosing your mining fees in payments, and will likely make your crypto safer.
Wallet winner – BitPay
| | | |
| --- | --- | --- |
| | BitPay | Coinbase |
| Safety | ✔ | |
| Convenience | | ✔ |
| Fee Flexibility | ✔ | |
| Currencies | | ✔ |
| Beginner Friendly? | ✔ | ✔ |
Payment Processor Comparison – Coinbase API or BitPay?
If you're a business operator and want to begin accepting Bitcoin on your website, both Coinbase and BitPay have similar solutions. In terms of conversion rates and deposit times both are effectively identical, so let's take a look at the other strengths of each platform.
Fees
Both BitPay and Coinbase charge a 1% transaction fee. However Coinbase waives the fee for the first $1,000,000 in a merchant's sales. On the other hand, BitPay only gives 30 free transactions up to $1,000 daily and $10,000 annually.
So for nearly all applications, the current Coinbase deal offers the lowest fees.
Fee winner – Coinbase
Plugins
For BitPay, providing solutions for merchants has been their focus from their inception. As a result, BitPay has a long list of integrations to make introducing Bitcoin payments easy. In addition to e-commerce plugins and services, BitPay has also partnered up with point of sale, accounting and donation services.

BitPay offers a huge range of existing integrations and plugins that seamlessly support Bitcoin payments through their platform.
In stark contrast, Coinbase supports significantly less and none of the Coinbase integrations aren't already included by BitPay. Whilst they cover the major plugins, their services will offer existing businesses less flexibility.

As a result, established businesses might want to consider BitPay's extensive integration to allow a quick and simple Bitcoin integration.
Plugin winner – BitPay
User Experience
In terms of design, the payment pages for both platforms show the same information and can be visually different depending on the platform and plugin, so they can't be actively compared.
However, as the largest Bitcoin broker in the market, Coinbase has one edge up. Logged in Coinbase users can pay with a click of a button. Given Coinbase's massive market share, with over 10 million users (relative to numbers such as the 23 million Bitcoin wallets in existence) this makes a big difference in ease of use and familiarity for your customers.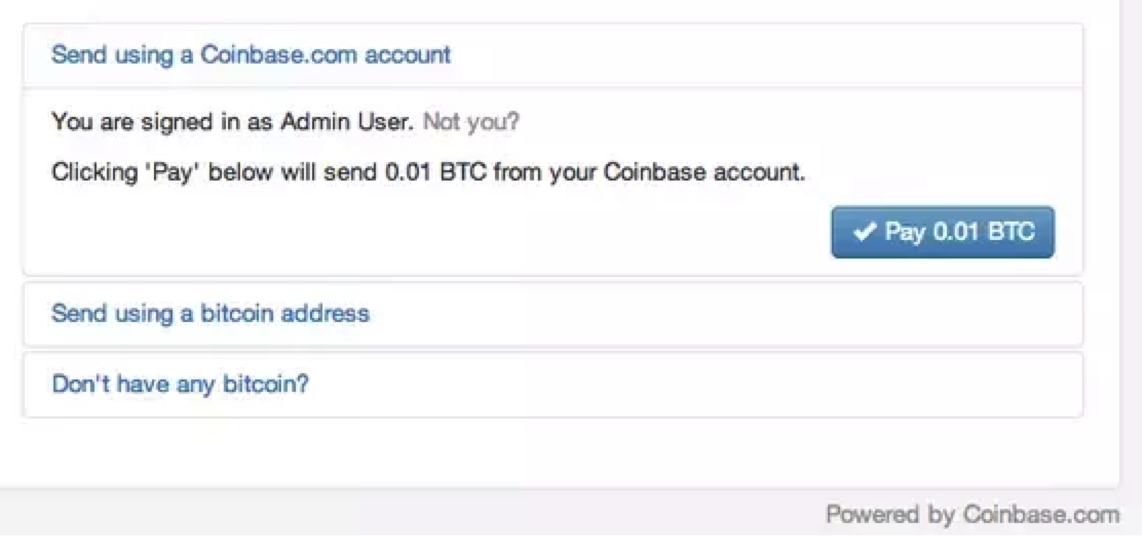 Summary
Both Coinbase and BitPay offer highly competitive options for digital merchants. However, with lower fees and consumer convenience, Coinbase wins out two to one.
Although, if you already utilize some of the integrated software, BitPay might be better for you.
Payment processor winner – Coinbase
| | | |
| --- | --- | --- |
| | BitPay | Coinbase |
| Fees | | ✔ |
| Plugins | ✔ | |
| User Experience | | ✔ |
| Regular Payouts | ✔ | ✔ |
| Competitive Exchange Rates | ✔ | ✔ |
Debit Card Comparison – BitPay or Coinbase Shift?
Bitcoin debit cards provide a practical use for cryptocurrency on a daily basis. Using them, you can load Bitcoin onto your card to spend, and the equivalent amount will be debited when you use it in-store.
Each card comes with some nuances, so let's go over them.
Loading
The cards have one fundamental difference; the BitPay card will give you a USD balance whereas the Shift card uses your Coinbase account, which is in cryptocurrency. This means that you load your BitPay card like a prepaid debit card, but Shift simply deducts your Bitcoin amount.
This means that the Shift card keeps you vulnerable to volatility in the crypto market. The $50 when you leave the house might not be $50 by the time you reach the shops. However, this spares you the mining fee from sending crypto to the card.

Availability
The BitPay card has already expanded across all 50 states of the US. On the other hand, Coinbase is still wading through regulatory restrictions and is only available in a select number of states in the US.
Due to recent VISA changes, neither card currently can be obtained outside of the US. It's worth checking Coinbase's list of eligible states to see if this affects you.
Availability winner – BitPay
Application
Registering for the card can take some time, so it's worthwhile to analyse exactly what's between you and having a card in your hands.
| | | |
| --- | --- | --- |
| | BitPay | Coinbase Shift |
| Cost | $10 USD | $10 USD |
| SSN | ✔ | ✔ |
| Full Name | ✔ | ✔ |
| Date of Birth | ✔ | ✔ |
| Address | ✔ | ✔ |
| Phone Number | ✔ | ✔ |
| Email Address | ✔ | ✔ |
| Identity proof (passport, driver's licence, photo ID) | | ✔ (Needed for Coinbase Account) |
The only clear difference between the signup processes is that a Coinbase account is needed for the Shift card, which requires some form of identity proof. Due of this, you'll need to take a photo of your ID and wait for it to be verified.
However, given most Bitcoin users will already have a Coinbase account activated, it's only a slight win in the favour of BitPay. Most cards will arrive to your address in one to two weeks.
Application winner – BitPay
Fees and Limits
| | | |
| --- | --- | --- |
| | BitPay (source 1 – source 2) | Coinbase Shift (source 1 – source 2) |
| Daily ATM Withdrawal Limit | $3,000 USD | $750 USD |
| ATM Withdrawal Limit (at a time) | $750 USD | $750 USD |
| Spending Limit | $10,000 USD | $1,000 USD to $10,000 USD (increases after periodic review) |
| Maximum Balance | $20,000 USD | None |
| Maximum Balance Load Per Day | $10,000 USD | None |
| Annual Fee | $0 USD | $0 USD |
| Conversion Fee | 3% | 3% |
| Domestic ATM withdrawals | $2.25 USD | $2.50 USD |
| Paper Statement Fee | No statement | $3.00 USD/statement |
| Dormancy Fee | $5.00 USD/month after 90 days of inactivity | Unspecified |
* The above information may change over time. See the hyperlinked sources for the most recent information.
The winner out of these specifications will depend on your intended usage of the card. The main difference between the two is that BitPay has a greater daily ATM withdrawal limit and spending limit, whereas Coinbase has unrestricted maximum balances.
Fees and limits winner – Draw
Cryptocurrency Integrations
The Shift Card is linked to Coinbase, so you can deduct Bitcoin, Litecoin, Ethereum, Bitcoin Cash or Ethereum Classic. If you prefer these currencies and have them in your Coinbase account, then the Shift card is a simple way to start using them every day.
The BitPay card can only be loaded through a Bitcoin payment, so it offers less coin flexibility than Shift.
Cryptocurrency integrations winner – Shift
Summary
The different loading systems means that the choice depends mostly on if you already have and use a Coinbase account, and if you want to use Ethereum or Litecoin too.
If you do own and use one and are in one of the available states, then the Shift card will generally offer you more. However, those who don't own a Coinbase account and are satisfied with only spending Bitcoin will find BitPay more readily available.
Further, given the major differences in how the cards are loaded, and the personal preference of which card offers better fees and limits, an objective recommendation cannot be made. It's up to you, based on your spending preferences and habits.
Debit card winner – Draw
| | | |
| --- | --- | --- |
| | BitPay | Coinbase |
| Loading | Prepaid | Using Coinbase account |
| Availability | ✔ | |
| Application | ✔ | |
| Fees and limits | Lower ATM fees, higher ATM withdrawal cap | Unlimited load cap |
| Cryptocurrency Integrations | | ✔ |
Conclusion
Coinbase, as the largest exchange in the Bitcoin market, has a significant advantage as they expand their services. The exchange makes their wallet and payment processing solutions tremendously more competitive, and provides a unique debit card solution.
BitPay's wallet is largely the winner unless you value Coinbase's convenience, but BitPay loses ground to Coinbase's aggressively low fees in payment processing.
The winner is which suits your needs best. Consider how and why you are planning to use your cryptocurrency, as well as which coins you will use. Both BitPay and Coinbase are leading platforms; the superior choice is your personal preference.