Overview
xCoins.io is a small peer-to-peer cryptocurrency exchange, but offers secured loans instead of direct Bitcoin payments. The platform is beginner-friendly, and their website handles the transaction all the way through. Conversely however, experienced traders will find the high fees and low minimums restrictive.
Most xCoins traders use it as a loophole to buy cryptocurrency through PayPal.
| | |
| --- | --- |
| Location | California, United States |
| Founding year | 2016 |
| Fees | Very high |
| Lending fees | Moderate (market driven) |
| Withdrawal fees | Low |
| xCoins fee | Moderate |
| Trading minimum | $20 |
| Trading maximum | $200, increasing to $1000 over time |
| Verification requirements | Moderately difficult (ID & selfie required) |
| Security & Integrity | Strong security practices, but a questionable legal status |
| Platform | Web only |
How Does It Work?
xCoins is a peer-to-peer Bitcoin exchange. In contrast to other traditional exchanges, Bitcoins can be bought or sold to other individuals instead of an organisation.

In a peer-to-peer transaction, each party is responsible for one end of the exchange. This means xCoin's only roles are to provide the software, link up each side and to help secure the transaction.
However, xCoin transactions are not direct payments like most other peer-to-peer exchanges. xCoins sets up a secured loan, which behaves much like a regular purchase but allows the borrower to return the Bitcoin at any time. This option is seldom executed by buyers, and from the sellers I spoke to there is no guarantee of a repayment. The loan system covers up what would otherwise be categorized as a Bitcoin exchange.
When a buyer submits an order, Bitcoin funds are temporarily frozen from the seller's xCoins account for a maximum of fifteen minutes. Once the buyer makes a US dollar payment to the seller through xCoin's PayPal system, the site automatically sends the Bitcoin to the buyer.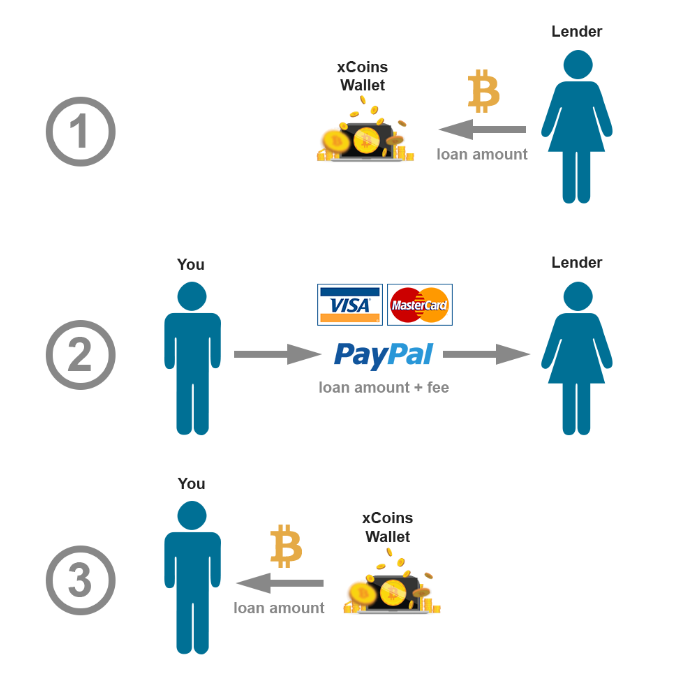 Why Peer-to-Peer?
There are a few key advantages to peer-to-peer exchange systems.
Because there is no central body trusted to hold the Bitcoin, peer-to-peer exchanges can't be fully regulated by the Government. As a result, they soared in usage after the Chinese Government 

began legislative action

 against the use of cryptocurrency.
The reduced involvement of the firm facilitating the trade can result in lower prices and fees.
The method of payment is entirely up to the two parties, opening up many more payment options.
However, peer-to-peer exchanges also have some problems:
Due to a lack of trust between each party, Bitcoin prices usually end up higher than the market rate.
To remedy the above situation, most peer-to-peer Bitcoin exchange take escrows from borrowers to secure transactions. This centralizes the transaction, but moves the risk to the exchange not honouring their agreement.
They escalate the legality predicament already faced by traditional exchanges.
Legality of xBitcoins
Even outside of the cryptocurrency markets, peer-to-peer exchanges are often criticized for the money laundering they facilitate. Combined with the partial anonymity of Bitcoin, the legal situation of xCoins in unclear.
xCoins appears to be following know your customer (KYC) regulation, which requires financial service businesses holding customer funds to collect information about their customers. KYC is why xCoins collects photo ID before after a transaction.
The US Government has been threatening more regulation for some time now, and some minor charges could make xCoins an illegal business.
In addition, their relationship with PayPal is suspicious. PayPal is used to pay, receive and convert many fiat currencies, but the company's acceptable use policy prohibits the use of PayPal for transactions "involv(ing) currency exchanges or cheque cashing businesses" (item h, caterory 3). The intangibility of Bitcoin also causes the PayPal transaction to be ineligible for its seller protection program.
Security Measures
xCoins follows an automated escrow procedure to secure purchases. In an escrow, the seller's Bitcoin is temporarily deducted whilst the buyer pays. When the transaction is complete, the Bitcoin is sent to the buyer and the cash is deposited into the lender's PayPal account (minus fees).
Escrow's consequence is that the risk each party holds is with xCoins correctly handling the transaction, instead of on the other party. Escrow transactions protect traders on almost all peer-to-peer exchanges other than those found on forums and messaging boards.
In regards to account security and the safety of Bitcoin stored within them, the only information available is from a 2016 forum thread.
We do get attacks on our servers with some regularity, and we are happy to report that our servers and software withstand them very well. In addition to best industry practices, such as SSL, PCI-DSS compliance, etc., we also have a lot of proprietary mechanisms to protect against attacks. Our servers are hosted on Amazon AWS and have stellar uptime. We use redundant system architecture, multiple servers, to additionally safeguard against data loss.
Two-factor authentication through SMS messages or the Google authenticator is a requirement for all accounts.
Despite these measures, it's not clear where and how xCoins stores its user's cryptocurrency. Bitcoin has a long history of exchange hacks and frauds, so you should always move your currencies out to a cold wallet after you buy.
xCoins experienced a minor hack in 2016. All funds were quickly reimbursed, but it is unsettling that the only information available on the incident is second-hand from the owner.
Payment Options
xCoins only allows payments through PayPal, but PayPal itself accepts:
All major credit cards
Debit cards
ACH payments from bank accounts
eChecks
PayPal funds
Verifying your ownership of a bank account will take 1-3 business days on the PayPal website.
Fee Summary
Lender fees
Lenders take on the risk that you will return the Bitcoin after its price has fallen, as well as the possibility that you will try to reverse the payment through PayPal. To accommodate for this risk, buyers pay a 15% premium on all purchases. Lenders must also pay a fee of 5% and PayPal processing fees of 2.9% + $0.30, so they only receive half of that amount.
Transaction fees
xCoins takes a 7.5% cut on all transactions. It is listed as the 'loan origination fee'. This amount is quite high in comparison to other peer-to-peer exchanges, who often change less than two percent.
Finally, the burden of the PayPal transaction fee is also on the buyer. It's subject to the service's current fees, but at the moment they are 2.9% plus a flat fee of $0.30.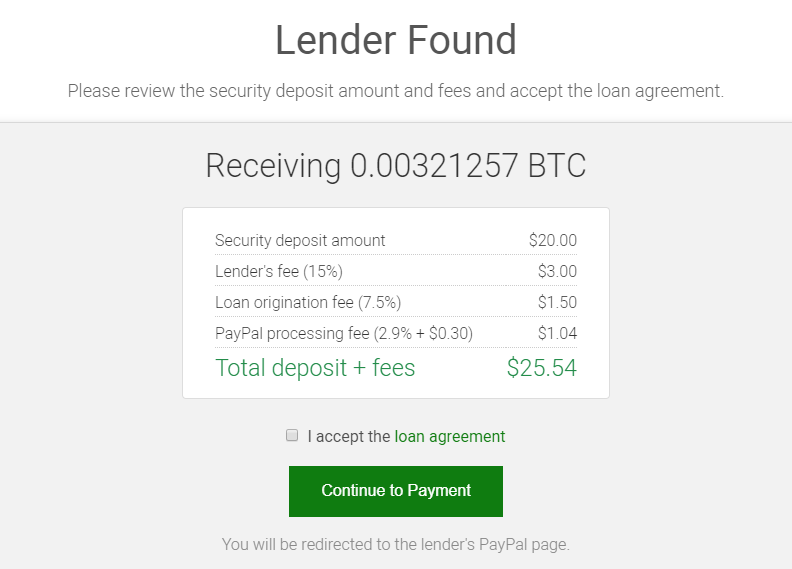 This brings the overall fee charged on top of the Bitcoin price to 25-28%.
Withdrawal fees
Transactions on the Bitcoin network have small cost. xCoins charges an amount higher than the median Bitcoin transaction fee, but the amount is reasonable ($1.28 in my case) and your crypto is sent in the next block.
Transaction Speed
xCoins claims that transactions can take less than five minutes to complete. Unfortunately, this is not true on your first transaction because IDs are only verified after payment.
I initiated a transaction in an off-peak time slot and it took 2 hours to be verified and for the cryptocurrency to deposited into my account.
However, there were no delays with withdrawals other than blockchain constraints.
Trading Limits
xCoin's trading limits increase with the age of your account, but remain low in comparison to the maximums on other exchanges.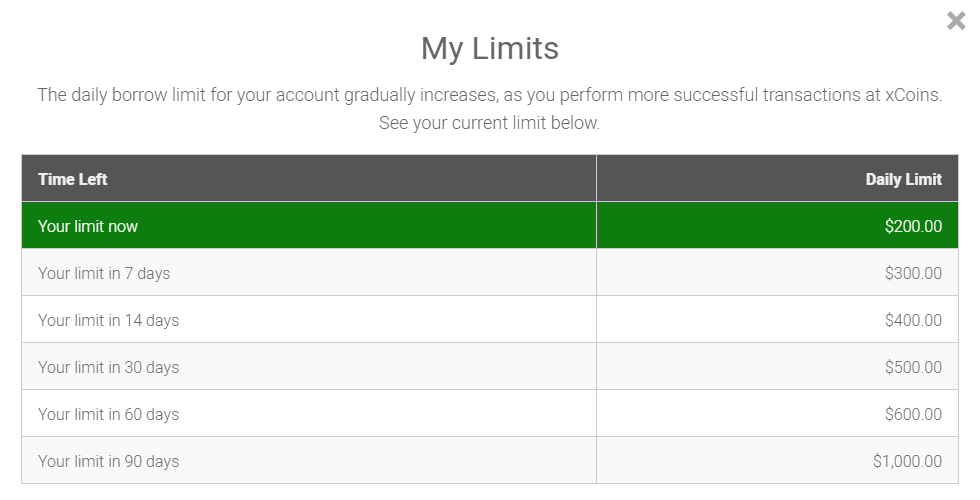 If you're in need of more than $200 of Bitcoin right away, then xCoins isn't for you. Take a look at non-PayPal purchase options such as Cex.io.
There is a buying minimum of $20 and lending minimum of $30.
Exchange Information
xCoins's offices are located in a Californian office building in the United States, which means that the exchange falls under US regulation.
It was founded by Sergey Nikitin in the middle of 2016. According to his Crunchbase profile, he has over twenty years of IT industry experience and was once a Microsoft recruit. He holds a Computer Science Bachelor degree from the University of California, Santa Barbara as well as an MBA from the University's Los Angeles campus.
Nikitin is also the Head of Technology at LQDEX, a fully decentralized cross-cryptocurrency exchange.
Paying Back a Loan
Although most treat it as a regular exchange, buyers on xCoins are actually lenders who can choose to pay back their loan at any time. None of the fees will be refunded, but the Bitcoin can be traded back at the original purchase price regardless of changes in market value. No other cryptocurrency exchanges are arranged this way, so we spoke with some Bitcoin lenders on the site to find out more.
According to one anonymous lender, loan repayments are arranged by individual lender-borrower pairs under an honour system. The lender had infrequently paid back transactions in the past, but couldn't promise a timely return for large amounts. Moreover, he explained that your funds aren't necessarially even available; the lender spent the profits after he got paid.
On any purchase, a loan contract is generated between the two parties. Since the contract forces lenders to reverse the transaction, it should be possible for buyers to open a dispute with xCoins if the lender refuses.

Ultimately, a small borrower has a good chance of a refund, even if the price of Bitcoin drops. However, reversals are not secured by xCoins as they are only between the two parties.
Lending Bitcoin
Bitcoin lending will allow you to capture the 15% lending fee on each transaction, but you take on the risk of never receiving a payment after your funds are sent.
All you need is at least $30 of Bitcoin and a PayPal account to accept loan deposits and the lending fees. However, more loans will come with additional invested capital.
Unfortunately, most of the information about how to lend profitably is hidden in a lenders-only Slack channel.
Regardless of the limited  information, lending appears to be plagued by charge-back problems. PayPal favors buyers in unclear payment disputes, so lenders often end up with seized PayPal funds when the transaction is reversed. A reversed payment is called a charge-back. Charge-backs can result in your PayPal account falling to negative balances, even if the Bitcoin was delivered.
xCoins details in their FAQ that they try to dispute PayPal claims and keep lenders at least 50% profit, but forum posts reveal that this is not always honored either.
Additionally, lenders report that the high volume of transactions and charge-backs can result in suspended PayPal accounts. PayPal is notoriously slow and difficult to work with on these issues at fear of breaking money laundering laws, so your account should hold as little as possible.
Verification Requirements
If you don't like handing over too much information online, xCoins might be for you. The site will ask you for:
Your full name
Email address
Mobile number (for two-factor authentication via SMS)
A picture of a Government ID document
A selifie of you with the Government ID and a piece of paper with 'xCoins' and the date written on it
A piece of Government ID is necessary for the company to follow anti money laundering laws.
Although xCoins will ask you to verify your identity when you make an account, their team will only take a look once you complete your first transaction.
xCoins Alternatives
If you want to make a PayPal transaction, there are many other peer-to-peer exchanges available.
| | | | | |
| --- | --- | --- | --- | --- |
| | | | | |
| Fee | 25% | 1% | 2% | 1% |
| Fee on buyer/seller | Buyer | Seller | Buyer | Seller |
Although xCoins has higher fees, it does have a locked-in price during payment, transaction reversals and in-house verification team.
Also note that independent traders on these exchanges often charge a higher Bitcoin rate on PayPal transactions because of the chargeback risk and PayPal fees. These fees are built in to the xCoins fee, so it isn't as bad as it looks.
Before you buy on xCoins, check the other three exchanges (you might also want to take a look at Virwox and Cryptex) for trustworthy users offering a PayPal exchange at a better price. You'll also find support for other cryptocurrencies.
Also be sure to read our comprehensive LocalBitcoins review if you want a truly decentralised exchange, just with escrow.
The Bottom Line
xCoins works, and I received Bitcoin after I made a purchase. It's fast and offers an interesting transaction reversal system. However, its high fees and low purchase limits are sub-par.
If you need to make a Bitcoin transaction but only have PayPal available, xCoins will solve your predicament. Otherwise, investors and traders alike should explore their other option first.