Key Differences
| | | |
| --- | --- | --- |
| | Bittrex | Bitfinex |
| Founding year | 2013 | 2012 |
| Location | Seattle, United States | Hong Kong |
| Fees (overall) | Low | Low |
| Transaction fees | Low | Very low |
| Withdrawal fees | None | Low |
| Deposit fees | None | Low & only on small deposits |
| Currencies | Over 100 cryptocurrencies | Around 20 cryptocurrencies, 4 fiat currencies |
| Account minimum | None | $10,000 to begin trading |
| Deposit options | Crypto | Crypto, fiat |
| Withdrawal limits | Up to 100 BTC/day | None |
| Verification requirements | Moderate | Extremely high |
| Margin trading | Not available | Available peer-to-peer |
| Over the counter trading | Available, only fiat to crypto | Available |
| Platforms | Web | Web, iOS, Android |
| Fund security | Strong | Poor record |
Use Bittrex if:
Are an experienced trader
To trade a wide variety of tokens
Use Bitfinex if:
You are trading with more than $10,000 USD
Are an advanced trader
Use your mobile to trade
A new user of crypocurrencies might take a look at the peer-to-peer options instead of these.
Exchange Background
Bittrex
Bittrex is one of the oldest crypto exchanges. It was founded in 2013 by three entrepreneurial cybersecurity engineers running a Bitcoin and Litecoin store for gift cards and phone cards. When they found that there was no automated service that could liquidate their Litecoin into Bitcoin, and built Bittrex to fix the problem.

The three built the exchange in less than 8 weeks in early 2013, and were among the first to create a crypto-focused exchange.
The site temporarily closed new user registrations in response to an influx of new users from the 2017 crypto boom, and opened back up for business in April 2018.
The exchange is well-regarded and used by tens of thousands of traders.
Altough Bittrex is an old exchange, it has never had a major security breach.
Bitfinex
Bitfinex has a had a long and rocky history. Founded in 2012, the Hong-Kong based company has made it through a number of security and legal crises.
In a disastrous 2016 hack, 119,756 Bitcoin, worth about $72 million at the time and proportional to 36% of Bitfinex's holdings, were stolen from the platform. Bitfinex made a the unexpected move of issuing new tradeable token, BFX, as a temporary replacement token for lost funds. In April 2017, the Bitcoin funds were paid out to owners, dollar for dollar, through the BFX tokens.
Criminal investigations over the incident are still ongoing.

The owners of Bitfinex suffered another blow when another one of their other projects, Tether, suffered a $30 million hack. The owners received a subpoena from US regulators over the relationship between the Tether and Bitfinex in 2018, and existing community concerns over the inaudibility of Tether and Bitfinex exploded.
In mid-2017, Bitfinex made and withdrew a lawsuit against Wells Fargo, who had blocked wire transfers to the platform.
Despite all this, Bitfinex has remained one of the top 10 crypto exchanges, well known for their peer-to-peer funding system.
Fee Summary
Transaction Fees
Bittrex charge a flat 0.25% commision on each trade, refunded if only a proportion of the order is filled. There are some nuances to this to do with these fees, including a truncating at the 8th decimal place (number is cut without rounding) and an application of the fee switching before and after conversion depending on the token you are using.
Bitfinex's fees are based on your 30-day trade volume and whether you are a maker or a taker. Makers put up a trade that nobody is currently willing to accept, then takers go through with them. Bitfinex's fees are quite small compared to other exchanges, all under 0.2%, but lots of volume is needed before the costs begin to reduce.

Withdrawal Fees
Sending cryptocurrency takes up mining resources, so there is a small fee associated with withdrawing cryptocurrency from both sites.
If you use Bittrex, those fees are strictly the network costs but Bitfinex's fees are inflated, charing sevral times more than the median transaction fee for Bitcoin withdrawals.
Deposit Fees
Bittrex does not charge a deposit fee on cryptocurrencies, but Bitfinex applies a fee on all crypto deposits under $1,000 USD to avoid "an excess of tiny wallet inputs that can accumulate, requiring wallet input consolidation maintenance and eventually delaying customer withdrawals".
You can view the exact fees on the deposit section of the fee schedule, but most are under 5 USD.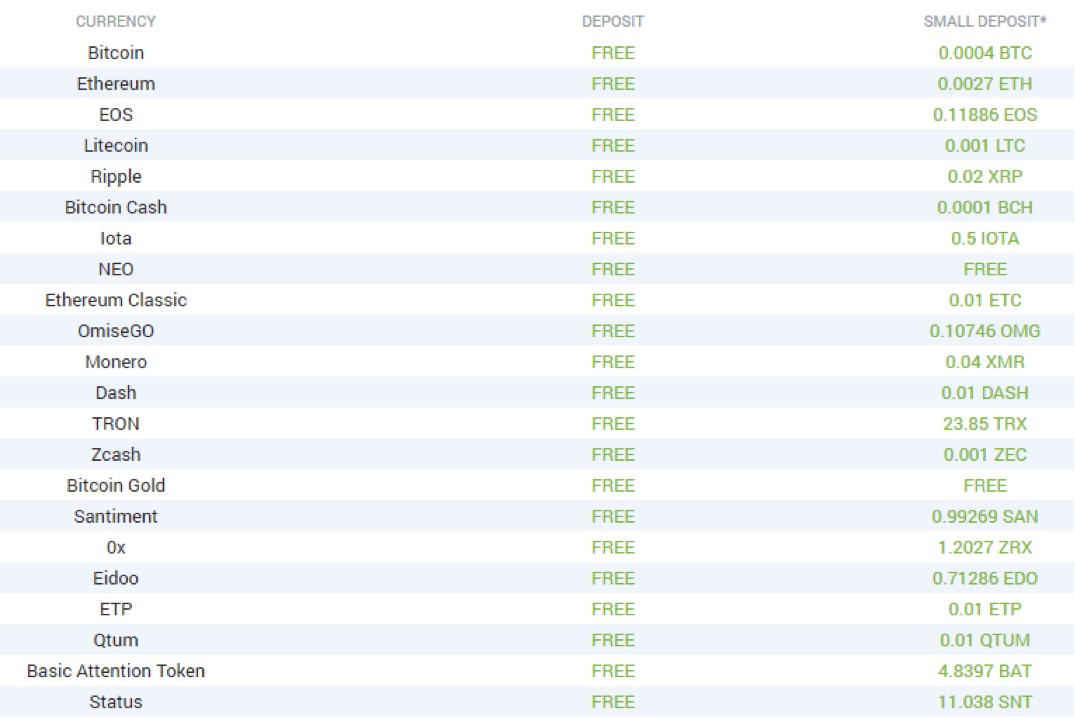 Bank wire fees are 0.1% on Bitfinex, but bank wires must be over $100,000 USD.
In contrast, Bittrex charges their standard 0.25% rate on bank wires but they can only be made to purchase crypto through their over the counter exchange service.
Inactivity Fee
In its user agreement, Bitfinex warns that users who hold balances in the site but do not trade may be charged an inactivity fee.
The fee hasn't been implemented yet, but the exchange wants to be clear that it is "not a wallet service" and unused funds should not be left on the platform.
Leverage Fees
Bitfinex runs a peer-to-peer lending marketplace where traders can leverage their positions with the funds of other users. The fees on this service apply to the funding provider, and amount to 15% for regular contracts and 18% on those created with hidden offers.
To combat price manipulation, they also charge an unused financing fee when users take out funding for a coin but don't make an order.
Bittrex is currently still working on implementing margin trading to their platform.
Supported Currencies
Cryptocurrencies
Both exchanges are industry giants and have a huge number of trading pairs.
Bitfinex supports little over 20 cryptocurrencies including most of the top 10 market cap currencies. Most of these currencies have trade pairings with USD, BTC and ETH.
Bittrex supports over 100 cryptocurrencies, creating hundreds of trading pairs mostly with Bitcoin and Ethereum.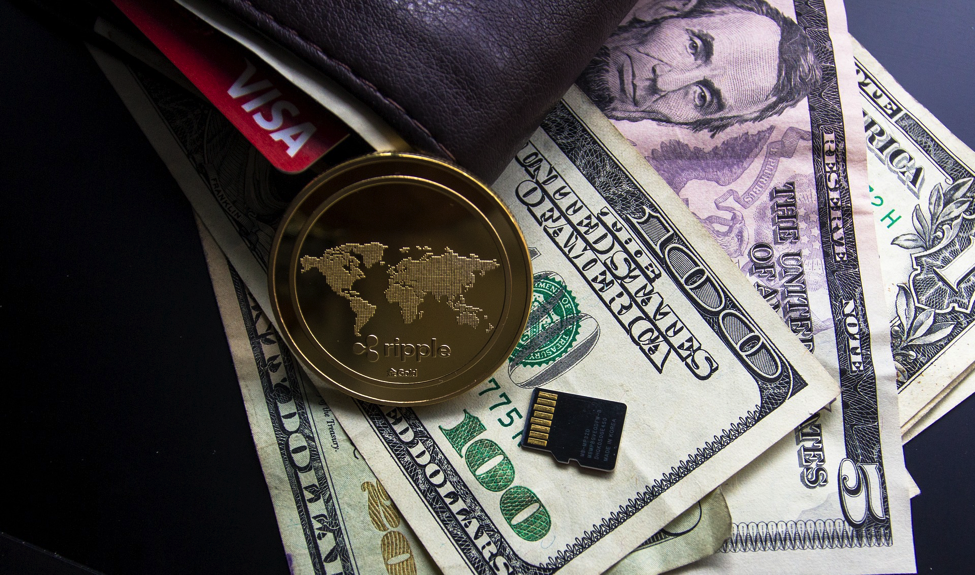 Fiat Currencies
Bittrex does not support trading fiat currencies, but does have plans to introduce fiat trading pairs. However, you can use their over-the-counter service to purchase BTC, ETH or USDT frm their inventory.
Bitfinex has trading pairs with the US Dollar, Euro, Japanese Yen and Pound Sterling. Not every cryptocurrency has a trading pair with each fiat currency, but you can always convert to Bitcoin and then to any fiat currency.
Verification Requirements
If you want to deposit and withdraw fiat currencies on Bitfinex, you'll need to provide them with just about every form of identify verification possible. On the other hand, Bittrex is closer to the industry standard and only requires a picture of an identification document along with some basic personal information.
ID verification on both sites will take several weeks.
| | | |
| --- | --- | --- |
| | Bitfinex | Bittrex |
| Full name | ✔ | ✔ |
| Street address | ✔ | ✔ |
| Email address | ✔ | ✔ |
| Date of birth | ✔ | ✔ |
| Identification document | ✔ (x2) | ✔ |
| Proof of residence | ✔ | |
| KYC form (name and signature) | ✔ | |
| Employer information | ✔ | |
| Net worth | ✔ | |
| Expected level of investment | ✔ | |
| Mobile number | ✔ | |
| Bank statement from source account | ✔ | |
Withdrawal Limits
Bitfinex has no trading limits, but your account must be fully verified before you can deposit and withdraw fiat currencies. You also must have an account balance of at least $10,000 USD before you can start trading.
Bittrex's trading limits increase with your verification tier:
Basic verified accounts: 0.4 BTC/day
ID verified accounts without two factor authentication (2FA): 1 BTC/day
ID verified accounts with 2FA: 100 BTC/day
Security
Given Bitfinex's history of security breaches and in recognition of the huge Mt. Gox exchange hack, both exchanges advertise their security features.
Both store nearly all of their user's funds in cold, offline storage and provide Two-factor authentication services.
Bitfinex also boasts their encryption mechanisms and withdrawal protection. Regardless, they have a rough security record and shaky legal standing from their platform hacks and other criminal allegations.
Despite these efforts, most in the industry suggest users with invested cryptocurrency that won't be withdrawn in the near future send funds to their own cold wallets to improve security. Further, Bitfinex strongly discourages using their network as a wallet.
Bitfinex App
Although most users report that they prefer trading on their reliable desktop platform, the Bitfinex app will let you track the crypto markets, and make a quick order, whilst you're on the move.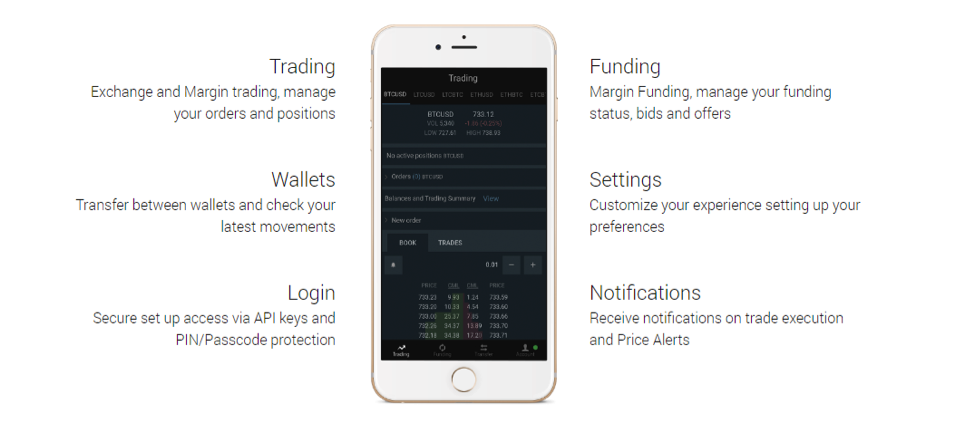 It's fast, reliable and has all of the functionality of the desktop app spare some account settings.
Bitfinex Margin Trading
Bitfinex is popular for its peer-to-peer margin trading systems, where advanced traders can create long or short positions by financing with other users.
If you are not trading your funds, you can profit off this service by offering a contract to loan it.
You can learn about Bitfinex's margin trading rules in their intro to margin trading, but it is not recommended for beginners.
Over The Counter Trading
Over the counter (OTC) trades do not occur on the exchange, and do not immediately affect the price of a currency when they occur.
Both Bitfinex and Bittrex offer over the counter trades.
On Bitfinex, OTC trades can occur between any currencies and are either made privately with other Bitfinex users or with the Bitfinex agent.
In contrast, Bittrex will only let you purchase BTC, ETH and USDT with a bank wire transfer.
The Bottom Line
Bittrex and Bitfinex are both traditional exchanges, but are quite different platforms. Bitfinex has superior functionality with leverage and fiat trades, but has a poor security record and isn't welcoming to smaller traders.
If you don't need any of Bitfinex's extra services, Bittrex is undoubtedly the more convenient platform to join.