Coinmama and Coinbase are cryptocurrency brokers. Instead of letting users buy and sell directly from each other like a traditional exchange, brokers profit from substantial mark-ups.
Whilst the fees are higher, these brokers take out the trust risk associated with peer-to-peer exchanges and the complexity of traditional trading platforms.
Coinbase is a giant in the brokerage market, and is a popular choice for casual investors. On Coinbase, you can buy, sell, store and track a cryptocurrency purchase with ease.
Coinmama is a smaller, reputable exchange that buys its crypto from the broader market, only letting users purchase cryptocurrency on the site.
Key Differences
| | | |
| --- | --- | --- |
| | Coinbase | Coinmama |
| Founding year | 2012 | 2013 |
| Location | California, United States | Slovakia |
| Fees (overall) | High | Very high |
| Transaction fees | High | Very high |
| Withdrawal fees | Only the cost to the exchange, avoidable through GDAX | N/A, no online wallet service |
| Deposit fees | None | N/A, no crypto sale service |
| Trading interface | Simple | Simple |
| Currencies | 4 cryptocurrencies | 8 cryptocurrencies |
| Deposit limit | Low, increases over time | N/A, no crypto sale service |
| Deposit options | Bank transfer, wire transfer, debit card | Debit or credit card |
| Withdrawal limits | Low, automatically calculated and increases over time | $15,000 at the first tier |
| Verification requirements | Reasonable | Difficult, but done in tiers |
| Customer support | Reasonable, but a poor history | Fast |
| Services | Buying, selling, storing, tracking | Buying |
| Platforms | Web, iOS, Android | Web |
| Fund security | Strong | N/A, no online wallet service |

Use Coinbase if:
Are a casual investor or cryptocurrency user
Need a simple place to buy, sell and store crypto
Are looking for a cheap broker, and don't want to use a traditional exchange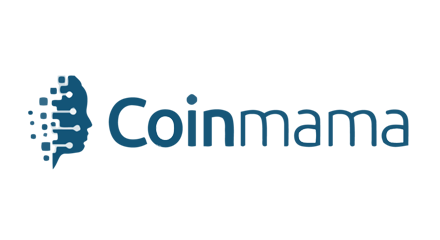 Use Coinmama if:
You are dissatisfied with Coinbase's customer service
Want to buy crypto from your credit card
Are interested in industry-focused blockchain projects such as Qtum and Cardano
Payment Options
Coinmama only allows purchases from VISA and MasterCard credit and debit cards.
Coinbase payment options vary by country, but include debit cards, wire transfers and bank deposits for sales. For region-specific information, visit the Coinbase payment methods page.
Fee Summary
Transaction Fees
Coinmama and Coinbase are both cryptocurrency brokers who buy cryptocurrency to sell directly to the public. Because brokers must bear the risk of holding a large amount of cryptocurrency, they often charge higher fees than traditional exchanges such as Binance and Bitfinex.
Therefore, if you're looking for the lowest fees on the market you should look away from these two sites.
The prices you find move with the market value of the cryptocurrency, but brokers set their own prices. You should check the price against the aggregated CoinMarketCap price to see if you're paying a premium. Make sure to account for fees which are added on top of the price.
Coinmama charges a markup fee of 5.90%, a cost which adds on to the Bitcoin price you see on the Coinmama website. They then apply another 5.00% transaction fee for all debit and credit card transactions. You can calculate the amount you can buy after this fee by dividing the amount on your card by 1.05.
Paying this fee is justified if you want the customer service, locked in crypto rate at the time of purchase or the user-friendliness of the platform. Otherwise, it is among the highest in the industry.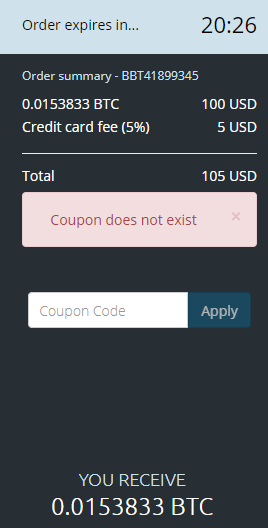 The order form only displays the order form, so be wary that Coinmama is charging the extra 5.90% on top of the Bitcoin price.
You'll find some fee relief at Coinbase. The transaction (payment method) fees are calculates as the higher of the transaction's flat rate or percentage rate. On Coinbase, most transactions will take a transaction fee between two and four percent. You can see the flat Coinbase fee in the purchase window, but will be the lower fee for any transaction of reasonable size.
Another variable fee, around 1%, is charged by Coinbase as their markup.
Overall, the direct cost of a debit card transaction in the US will be 5% on Coinbase but 11% on Coinmama.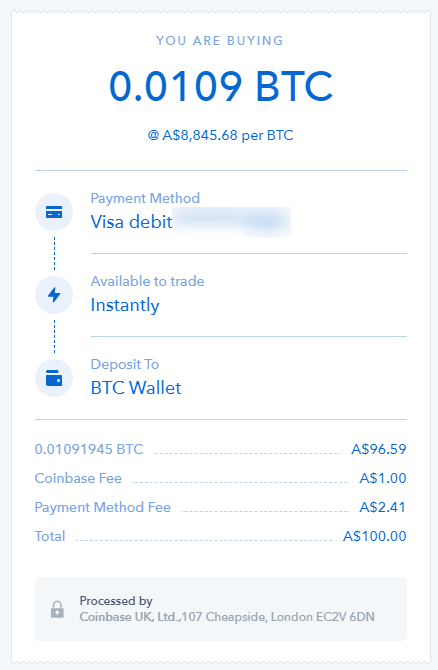 Coinbase's order form clearly displays both of these fees.
Withdrawal Fees
Sending cryptocurrency takes up valuable mining resources on blockchain networks, so a small premium must be paid on payments to ensure a quick delivery.
Coinamama doesn't charge this fee at all. However, Coinbase charges an amount calculated by an algorithm based on the median Bitcoin transaction fee. You only need to pay this if you want to move your funds out of your Coinbase wallet.
If you want to save every dollar, you can cut this out by using the GDAX loophole. GDAX is a traditional exchange operated by Coinbase, so transfers between Coinbase and GDAX wallets are free of charge. However, GDAX network transaction fees are completely free.
Fund Security
Coinbase holds less than 2% of their funds online. The rest is encrypted and stored in cold, offline storage where a hacker would require physical access to steal it.

Those funds are fully insured and spread across multiple locations, so it is impossible to lose if correct procedure is followed.
Although Coinbase offers its users an offline crypto wallet, exchange hacks happen every few months and funds are not always stored properly.
Ultimately, it's always best to move your Coinbase funds outside of the web wallet to a cold or desktop wallet option.
Coinmama does not offer a web wallet service, so these risks are not applicable.
Supported Currencies
Although Bitcoin is by far the most popular cryptocurrency, there are direct competitors and other tokenized blockchain projects available on the market.
Coinbase offers trading and storage of Bitcoin, Bitcoin Cash, Ethereum and Litecoin. The broker has also announced their plans to add the fully decentralised Ethereum Classic back.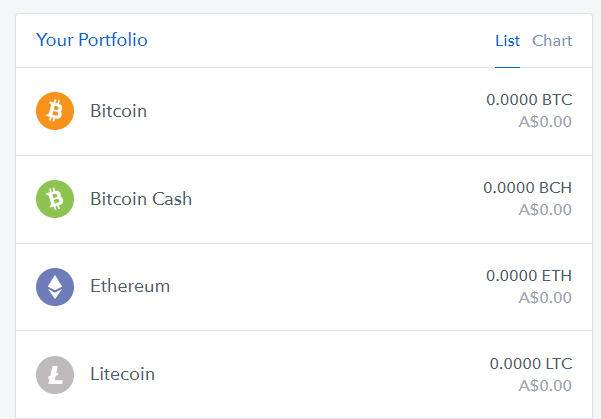 This selection is friendly to a beginner investor, but obviously lacks the opportunities that lie in smaller, upcoming projects. Although Coinbase wraps your holdings into a portfolio to make the value of your purchase easy to track, leaving crypto on the site is not recommended due to the security concerns explained above.
Options are broader at Coinmama, but funds can only be purchased; not sold or stored. They offer Bitcoin, Ethereum, Ripple, Litecoin, Bitcoin Cash, Cardano, Qtum and Ethereum Classic. Adding Cardano and Qtum lets investors buy into projects seeking to tackle the industry use cases of blockchains. 
Verification Requirements
To buy any cryptocurrency on either site, you'll need to provide a picture of a Government ID. Coinmama also requires a picture of you with the document. This can be your passport, drivers licence or another form of Government ID. The requirement is standard in the cryptocurrency industry due to Know Your Client (KYC) laws. KYC is a subset of money laundering laws in the West that require financial institutions to record the identities of their customers.
An analysis of your pictures will take few days at most on both exchanges.
Another important difference is that Coinmama accounts fit into one of three verification tiers which increase your trading limits. On Coinbase, higher trading limits come with time and activity instead of verification steps. Moving to the second and third levels of Coinmama optional.
A level 2 account on Coinmama requires $10,000 USD of spending and a level 3 account requires you to complete a short form.
| | | |
| --- | --- | --- |
| | Coinbase | Coinmama |
| Full name | ✔ | ✔ (Tier 1) |
| Selfie with ID | | ✔ (Tier 1) |
| Country | ✔ | ✔ (Tier 1) |
| Mobile number | ✔ | ✔ (Tier 1) |
| Email address | ✔ | ✔ (Tier 1) |
| Utility bill | | ✔ (Tier 2) |
| Identification document | ✔ | ✔ (Tier 1) |
| Secondary identification document | | ✔ (Tier 2) |
Trading Limits
Trading limits are huge drawback of Coinbase. Your weekly buying and selling limits vary depending on your location and account standing, but could be as low as $50.
Coinbase limits are automatically calculated and there is no way to increase them apart from providing all the verification you can and actively buying and selling on the site.
On the other end, they have a very low $2.00 minimum.
Coinmama is upfront about their trading limits, and they're huge. With just a level 1 account, you'll be able to:
Buy up to $15,000 in total
Make orders up to $5,000 each
Process 5 orders each day, with a daily limit of $5,000
Make 20 orders each month, with a monthly limit of $30,000
You can increase your buying limit by increasing the level of your account. Level 2 accounts can trade up to $50,000 and level 3 accounts work up to $1,000,000.
However, Coinmama can't help you if you want to trade in smaller amounts. Their minimum is a whopping $60, but in most places of the site it's $100.
Customer Support
A lack of reliable customer support has long plagued cryptocurrency exchanges, and the issue has been compounded by an influx of new users.
Thankfully, Coinmama and Coinbase have made substantial investments into improving the customer experience. Both sites run phone support lines and turn around customer email in a few days.
However, Coinbase's email service is often overloaded, leading to their one-star Trustpilot score after over a thousand reviews. Users have reported better experiences with their hotline.
Coinmama's hotline only runs 9 hours, 5 days a week, but response times are reasonable through email.
Exchange Backgrounds
Coinmama
Coinmama was founded in 2013 by two early Bitcoin investors frustrated with the difficulty of buying crypto.
Information is sparse, but we know that Coinmama is owned by New Bit Ventures Ltd, a Slovakian business. According to the Coinmama website, the site falls under Slovakian regulation.
Coinbase
Coinbase has been around since 2012 and operates out of San Francisco. As one of the most popular cryptocurrency exchanges, it's taken the rollercoaster with Bitcoin's volatility.
They clearly state the legislation they follow and the regulation they face on their website.
Across four major funding rounds, Coinbase has attracted attention from a variety of international investment firms and angels. In their most recent funding round, Coinbase was the first in the cryptocurrency space to break the $100 million mark and have since been involved in some of the biggest acquisitions in the market.

Official Coinbase App
Available on iOS and Android, the Coinbase app helps you watch the Coinbase prices of the four cryptocurrencies it supports. Price alerts can be set up to notify you when a selected currency falls above or below your set markers.
If you have a payment method connected to your Coinbase account, you can also buy and sell crypto straight from the mobile app.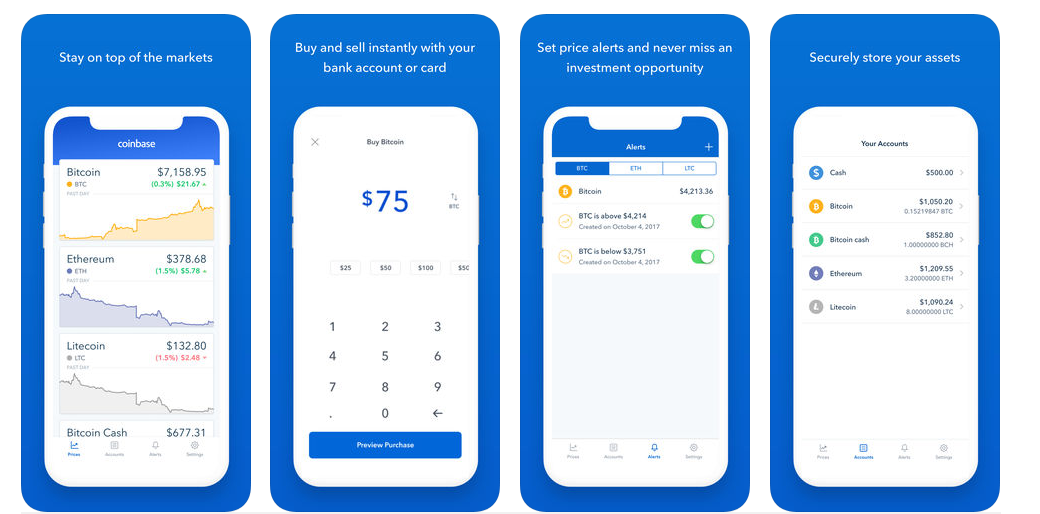 It's intuitive, fast and has all the functionality of the website. The app's reviews are universally positive, spare some users who are upset with the Coinbase service itself.
Out of all the cryptocurrency apps, this one loads the fastest and always provides an accurate price.
Coinbase Debit Card
If you're keen to spend your cryptocurrency in everyday life, then the Coinbase Shift card can replace your existing credit or debit card.
The card links your Coinbase account up to a VISA debit card, so you can spend crypto in most stores.
You can learn more about the service in our Coinbase vs BitPay comparison and order it for $10 on the Shift website.
Coinbase vs Coinmama: The Bottom Line
Both Coinbase and Coinmama are reputable, high-quality brokers. Coinmama's fees are nearly twice as much as Coinbase's, so its usage is to avoided unless you have a grudge against Coinbase or are in need of a niche service, such as one of their smaller coins or some credit card purchases.
Use Coinbase's web wallet with caution, and check which fees are applicable to you on both sites before you buy.