What is NEO?
NEO is a Chinese blockchain project out to build a decentralized economy. It runs on a dBFT protocol, a low-cost solution preventing network forks and providing finality for all transactions.
Its smart contract and reward systems are backed by a secondary token, Gas. Nodes can execute smart contracts by trading in their Gas and all NEO token holders receive regular Gas payouts.
Our full break-down of the cryptocurrency is available on our Ethereum vs NEO coin comparison guide.
1 — Where to Buy NEO
Unfortunately, NEO is a Chinese token and many of its largest exchanges are in Mandarin. The four exchanges below accommodate the Western market and have English customer support.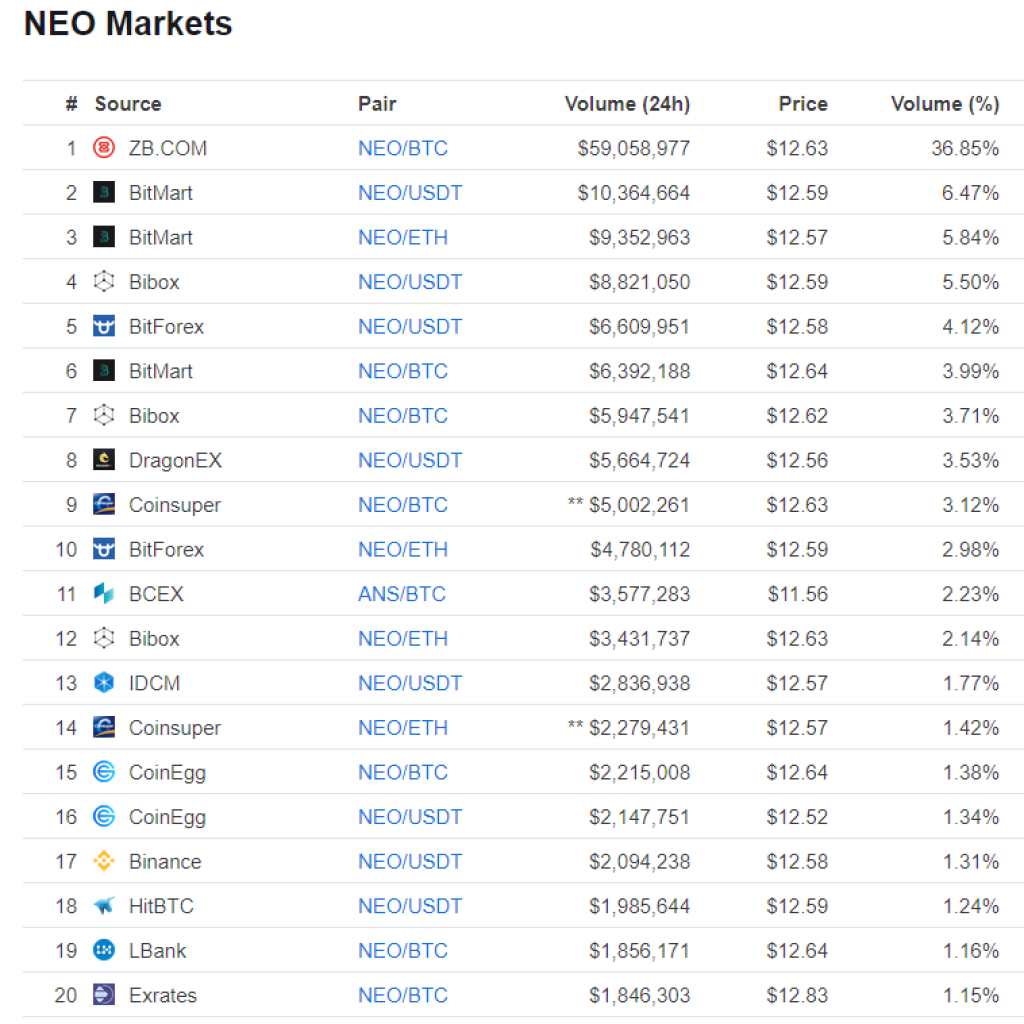 Our choices maximize variety, whilst only picking from the largest, most trustworthy exchanges with plenty of volume.
We'll be looking at:
Comparing the Exchanges
At a Glance
Binance
Bibox
HitBTC
Changelly

No ID Required

✔ (Only level 2)

 

✔

 

✔ (Only verified accounts)

 

✔

Fee Estimate

0.1%

0.1% + $0.50 USD
0.1% + $5 USD
0.5%
Easy to Use

✔

Currency Options

BTC, ETH, USDT, BNB
BTC, ETH, USDT
BTC, ETH, EOS + Stablecoins

Hundreds + Fiat

Trading Maximums

2 BTC/day*
2 ETH/day*
5000 EUR

Unlimited **

Mobile App

✔

(iOS)

Exchange Wallet

✔ (With GAS payouts)

✔

✔
Overall, Binance is the cheapest exchange and has high trading maximums without verification. Bibox and HitBTC have niche uses for avoiding ID verification and trading stablecoins respectively. Changelly is the most flexible and simple exchange, though you will pay for the convenience.
* Trading maximums can be raised by providing ID.
** May be limited by stock availability or Changelly's liquidity.
Verification Requirements
Here's what each of the three exchanges will ask of you before you can begin trading.
| | | | | |
| --- | --- | --- | --- | --- |
| | Binance | Bibox | HitBTC | Changelly |
| Full name | ✔ | | | |
| Mobile number | ✔ | ✔ | ✔ | |
| Email address | ✔ | ✔ | ✔ | ✔ |
| Identification document | ✔ (Level 2) | | ✔ (Verified account) | |
| Full name | ✔ (Level 2) | | | |
| Date of Birth | ✔ (Level 2) | | | |
| Address | ✔ (Level 2) | | | |
| Proof of Address | | | ✔ (Verified account) | |
The small verification requirements within the traditional exchanges might be due to all three reportably running operations in Hong Kong, a region known for its lax financial regulations. They only require your mobile number in order to set up two-factor authentications via SMS for logins and withdrawals.
The optional level 2 Binance account will increase your 24-hour withdrawal limit from 2 BTC to 100 BTC. Verified HitBTC users have unlimited trading and withdrawal maximums.
Least verification requirements: Changelly
Exchange Fees
Fee structures differ between exchanges, so here's the break-down:
Binance:
0.1% trading fee.
Dynamically calculated withdrawal fees. Free for NEO, but 0.0005 BTC ($2.50 USD) for Bitcoin withdrawal at the time of writing.
Holding the Binance BNB token and trading in large volume will reduce the fee as per the fee schedule.
Bibox:
0.1% trading fee for both makers and takers.
A small withdrawal fee of 0.05 NEO ($0.50 USD) at the time of writing.
The Bibox's BIX token can be used to reduce these fees.
HitBTC:
0.0006 BTC deposit fee (around $5 USD). Most other cryptocurrency deposits are free.
Dynamically calculated withdrawal fees. NEO withdrawals were free at the time of writing, though BTC withdrawals were 0.001 BTC, well above the network fee.
0.1% trading fee on the trade for takers.
No fees for makers, which can be achieved by placing a limit order below the current price.
Changelly:
0.5% flat fee on all transactions.
Lowest fees: Binance
Ease of Use
Binance, Bibox and HitBTC are traditional exchanges. They have complete trading interfaces and are selected by professional cryptocurrency day traders. There are often no confirmation pop-ups and and trading windows are filled with information to inform advanced users.
Despite their complexity, performing a NEO transaction on a traditional exchange is simple enough for most cryptocurrency users. We have provided step-by-step instructions for all four exchanges below.
On the other head, Changelly is built for simplicity. It requires no knowledge of order types or even a cryptocurrency deposit, just how to send and receive NEO.
Simplest Exchange: Changelly
Currency Options
These are the currently available trading pairs to NEO. Be sure to let us know in the comments if an exchange has added a new NEO pair!
Binance: Bitcoin, Ethereum, Tether and the BNB Binance token.
Bibox: Bitcoin, Ethereum and Tether.
HitBTC: Bitcoin, Ethereum, EOS and the Tether, Dai, TrueUSD and EURS stablecoins.
Changelly: Trade in over 100 different cryptocurrencies, as well as US Dollars and Euros.
Most trading pairs: Changelly
Further Considerations
Trading Minimums
Bibox and Binance will require you to withdraw at least 1 NEO at a time, and HitBTC will reject your withdrawal request if it does not exceed the hefty withdrawal fee.
Most traditional exchanges will reject purchases under 0.002 or 0.001 BTC.
Changelly will provide the user with a warning if network fees are likely to bring the purchase amount to zero. Fiat deposits must be over $100.
Trading Maximums
Binance trades will be limited to 2 BTC equivalent a day until additional verification is provided and the account is promoted to level 2. Level 2 accounts have a 24-hour withdrawal limit of 100 BTC a day.
Bibox's maximums are not stated on their website. However, a customer representative told us the withdrawal maximum was 2 ETH daily for new users. It can be raised to 20 BTC by providing additional verification to a third party, hitting their 100 BTC benchmark and making a short $300 refundable deposit in BTC or ETH.
BestBitcoinExchange.io reports that HitBTC's withdrawl limit is 5000 EUR daily.
Changelly does not have a stated maximum, however transactions can be delayed if they are not prepared to complete the purchase.
Despite these maximums, keep the exchange's volume in mind, and do not use market orders on larger transactions.
Binance App
If you own an Apple phone, the Binance IOS app will allow you to trade and monitor your NEO from your mobile device.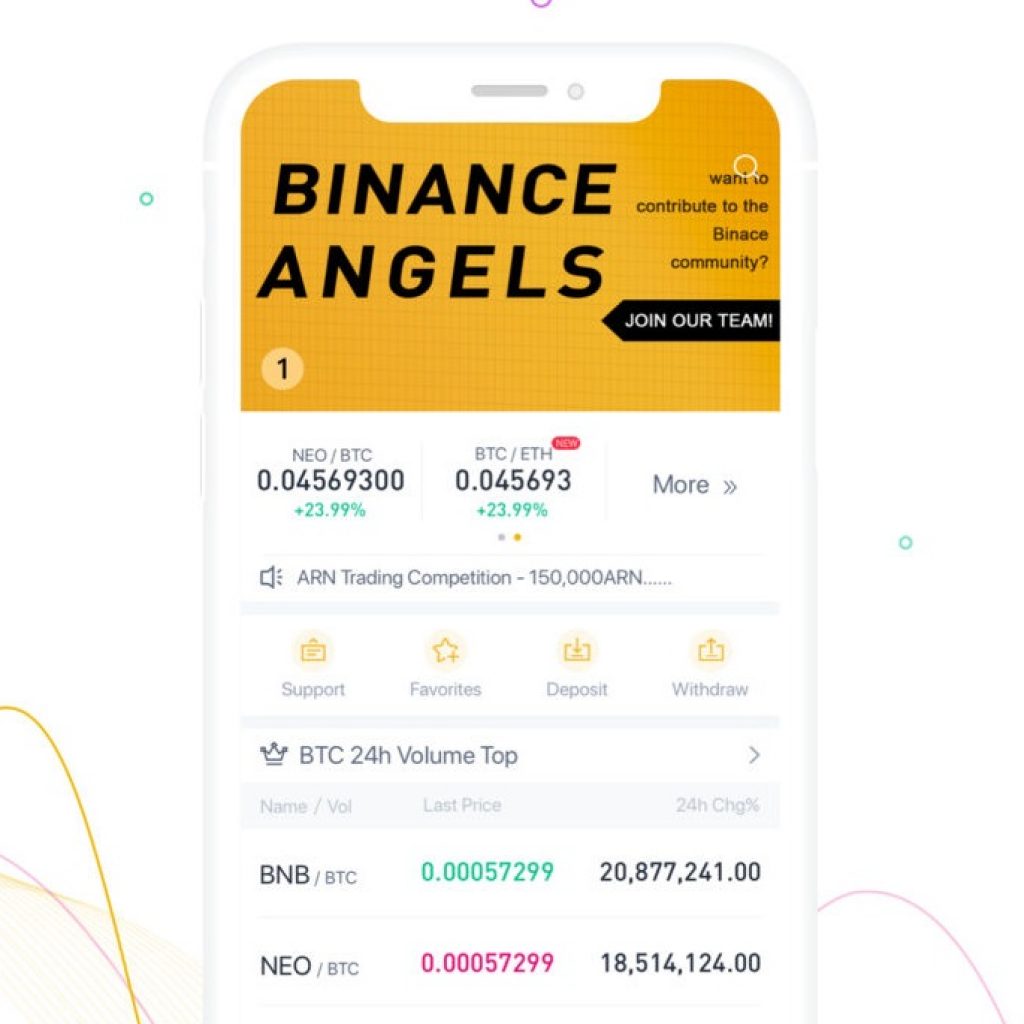 If you leave NEO on the Binance exchange, you can use the app to track its value in real-time.
Changelly Criticisms
Changelly purchases your cryptocurrency from a third party to facilitate your transaction. As a result, it has been criticized for its inability to handle large trades. The site may also ask for additional verification if you are making a large transaction.
Other Options
Bitfinex is an exchange based in Hong Kong that specializes in high-volume trades. You will need over $10,000 USD in your account to use the platform. However, their transaction fees are very low and the exchange facilitates trades to fiat currencies.
Signing up will also require a plethora of personal information, including a photo of your ID, proof of residence and employer information.
Bittrex is one of the few exchanges based in the United States. New traders are limited to 0.4 BTC/day until they complete additional verification steps, but this is one of the few exchanges that abides by US financial regulations.
If you're considering purchasing from one of these exchanges, check out our Bitfinex and Bittrex exchange comparison guide.
2 — Buying your NEO
How to Buy NEO on Binance
1. Set up a Binance account here and set up your two-factor authentication.
2. From the Funds tab, select Deposits. Use the dropdown to select Bitcoin, Ethereum or Tether.
3. Using your cryptocurrency wallet, make a payment to the one-time address given.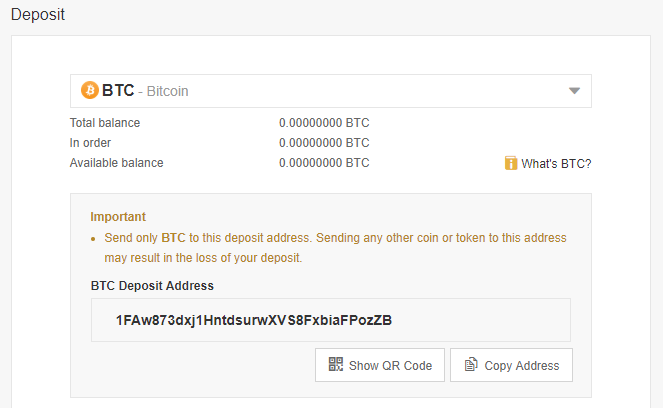 4. Wait until your deposit is complete. For Bitcoin, this will take two conformations (up to 20 minutes).
5. From the exchange tab, select the basic view. Select your deposited currency from the top right and search for NEO. This will direct you to the appropriate trading pair.
6. Now look down to the trading box. A market order is the simplest, and will buy the requested amount of NEO at the best available price. A limit order will let you set your own price, but may be left unfilled if there are insufficient sellers. You can use all of your deposited currency by pressing the '100%' button.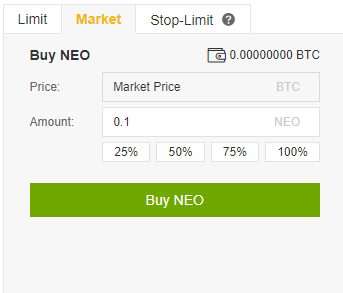 7. Once your order fills, you can withdraw it from the withdrawals page or leave it in the exchange wallet.
How to Buy NEO on Bibox
1. Create an account here and set up your two-factor authentication.
2. From the funds tab, select your master account and deposit Bitcoin, Ethereum or Tether.
3. Make a transfer to the one-time deposit address given. It will take 3 conformations (20-30 minutes) for a Bitcoin deposit to appear. You can track your deposit from the Deposit History page.

4. Select the basic exchange under 'Exchange'. From the trading pair drop-down in the top right, select your deposited currency and search for NEO. This will bring you to the trading pair you need.

5. Perform the limit order at the current price, using all of your deposited crypto by pressing '100%'. Use the auto-fill function to select the price and amount.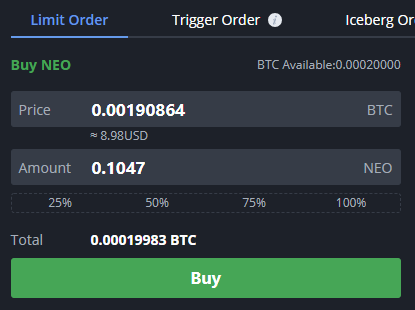 6. You can withdraw your NEO back on your Master account under Funds.
How to Buy NEO on HitBTC
1. Sign up for a HitBTC account and set up two-factor authentication.
2. From the Deposit tab hit the deposit button next to any of the cryptocurrencies within the blue box (BTC, ETH, BCH, USDT, TUSD, DAI, EOS, EURS). Make a trasaction to the one-time address given.

3. Once your transaction is complete and confirmed, find your trading pair from the Exchange tab. Under Instruments, select your deposited currency and search for NEO.

4. Buy your NEO from the box to the right. A market order will always fill completely, so it is the easiest transaction to make. If you want to set your own price, you can use a Limit order.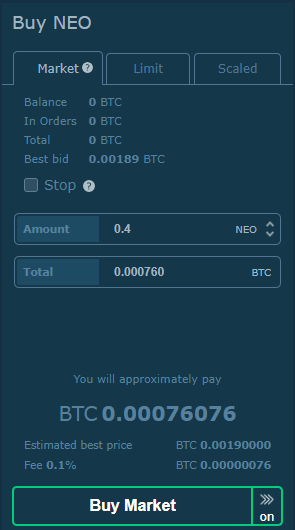 5. Once your order is filled, you can withdraw your NEO from the account tab.
How to Buy NEO on Changelly
1. Head to the Changelly website and create an account.
2. Select your desired deposit currency and NEO, then enter your deposit amount. Hit Exchange to continue.

3. Enter your NEO wallet address. If you don't have one, check the 'Storing your NEO' section below or quickly set up an address with NeoTracker. Ensure that you input your NEO public key, not your private key.
4. Make your payment by sending crypto to the deposit address provided, or by using your credit card.
3 — Storing your NEO
A cryptocurrency wallet is used to send, receive and store your NEO tokens. Unfortunately, many major wallets, such as Exodus and Jaxx, do not support NEO.
Some wallets will also allow you to claim your network-issued GAS tokens just for holding NEO.
Below is a selection of recommended web, hardware, desktop and mobile wallet options.
Exchange Wallet
If you chose to purchase your NEO from a traditional exchange, such as Binance, Bibox or HitBTC, you are permitted to leave your NEO in their trading wallets.
Unlike other exchanges, Binance will automatically provide you with the monthly GAS payouts you are entitled to.
Unfortunately, it is widely considered bad practice to leave your tokens on an exchange.
There are a plethora of exchange hacks and exit scams that will result in the immediate loss of your NEO.
Exchange wallets have minimum withdrawal limits, limiting their use as a currency.
Tokens can be removed from exchanges with limited notice.
In other instances, the exchange may fail to recognize network forks. Thankfully, NEO is one of the few cryptocurrencies with finality and can never intentionally fork.
The only reason to leave your tokens on an exchange is for very short-term holders, or if you do not care if the funds are lost.
The Neon wallet is an open-source program built by the City of Zion development community, a well-known unofficial group of contributors to NEO.
Neon is a light wallet. In contrast to the NEO-GUI below, it:
Does not require a full sync of the blockchain on your computer
Is easy to set up and use
Runs smoothly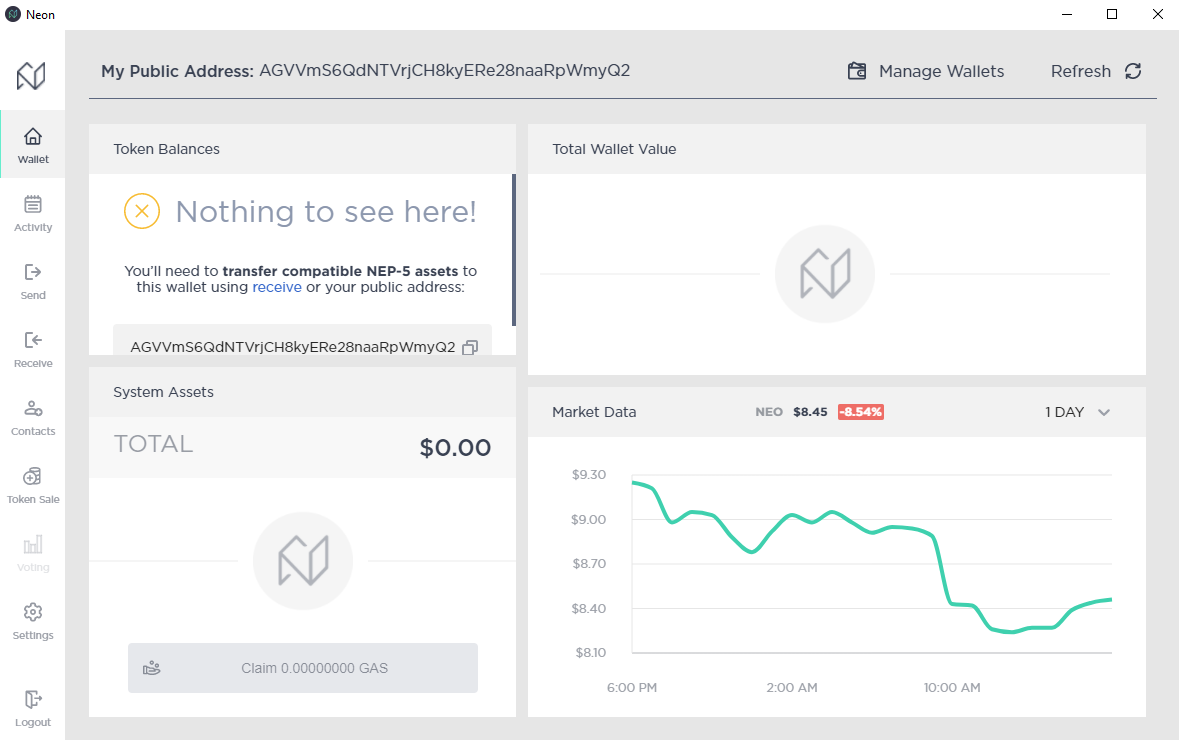 In addition, Neon looks great and has plenty of features, including:
A paper wallet generator
QR code generator
Multiple wallets with customizable names
Wallet importing
NEP-2 and NEP-5 support for other NEO-based assets
USD market valuations
GAS receipts
Password protection
Overall, Neon is a fantastic wallet with an abundance of features; and a must for traders of NEP-5 assets.
The NEO-GUI wallet is the only official wallet on this list, available in English and Mandarin. It is an open-source desktop program developed by the NEO Project and available for free.
Unfortunately, this wallet will require additional software downloads and will sync the blockchain to your computer, allowing you to verify transactions for yourself.
Setup is a little tricky, so follow this Medium guide for step-by-step instructions.
Many users have reported issues connecting to the blockchain directly, including failures to sync altogether.
NEOTracker.io is an unofficial web wallet, but recognized by the NEO team.
The wallet is built on top of a blockchain explorer, and has API access to NEO markets to present USD equivalent values. To improve the security of your funds, you can generate a paper wallet print.

Web wallets are generally considered insecure, albeit often safer than exchange wallets. Unfortunately, your password will be cached, so anyone with access to your computer will have full wallet access. Furthermore, a compromised web server can expose your wallet to attack.
These risks can be mitigated by downloading Neo Tracker locally. To install, download the .tar.gz folder, extract its contents and open the index.html file. This will open the tracker locally, so it will be available in offline environments and will run independently of any web servers. Additionally, your private key will be stored in a password-encrypted file on your computer.

Neo Tracker is an open-source program, so you can be sure of the transparency of your download.
Ledger hardware wallets are the perfect option for a serious cryptocurrency investor. Their devices store a range of cryptocurrency assets and are popular for the security features.
The Ledger Blue is a phone-sized device with a touchscreen, with full wallet capabilities for sending and receiving tokens. Unfortunately, it will set you back a few hundred dollars and some users have even reported issues with NEO.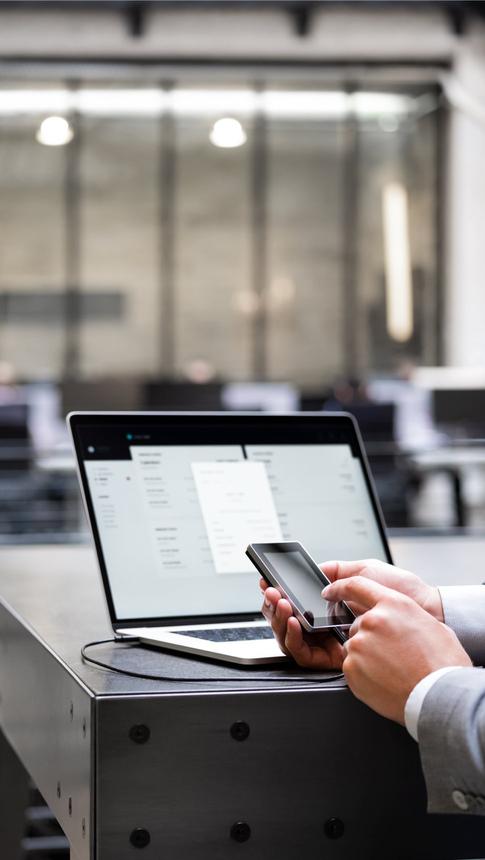 If the cost of the Blue deters you, the Nano S might be a better option. It has been on the market for far longer, and can support over 40 cryptocurrencies in a customizable, USB-sized stick.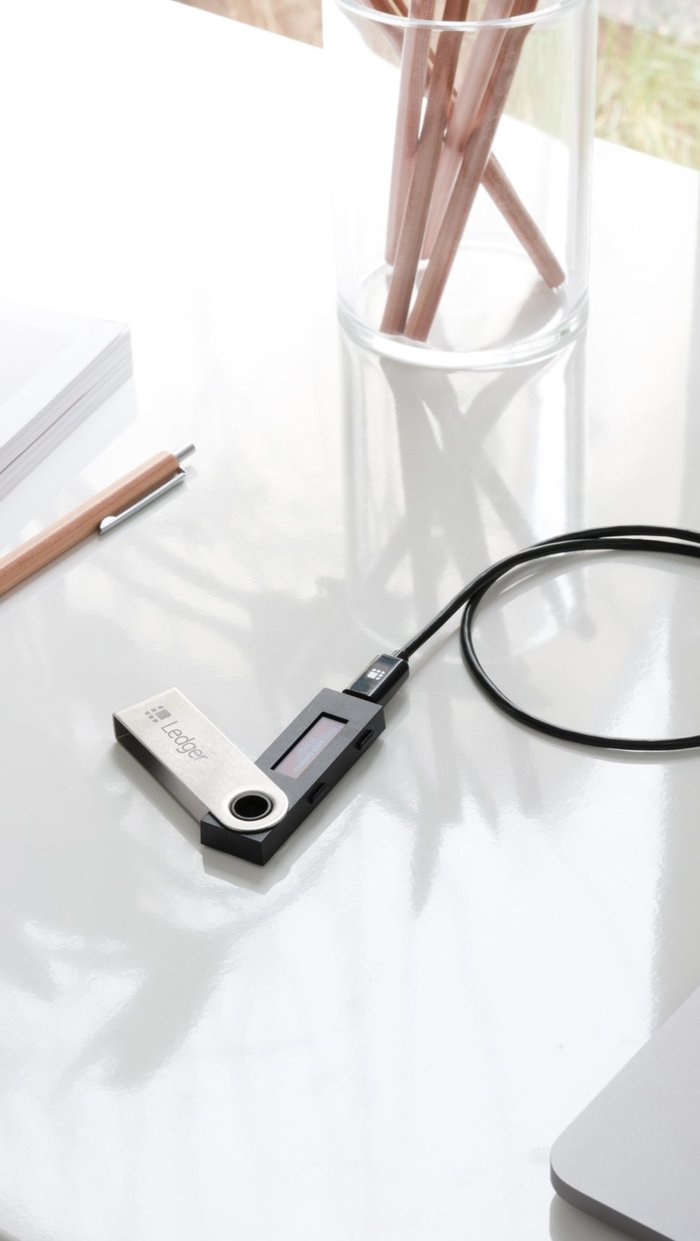 O3 is a light wallet available on Windows, Linux, OSX, iOS and Android. This makes it perfect for users operating a number of operating systems daily.
The code is open source, but the developers are less known than other products.
It will provide most of the features of the Neon wallet, including paper wallet printouts, GAS claims, NEP-5 support and price tracking.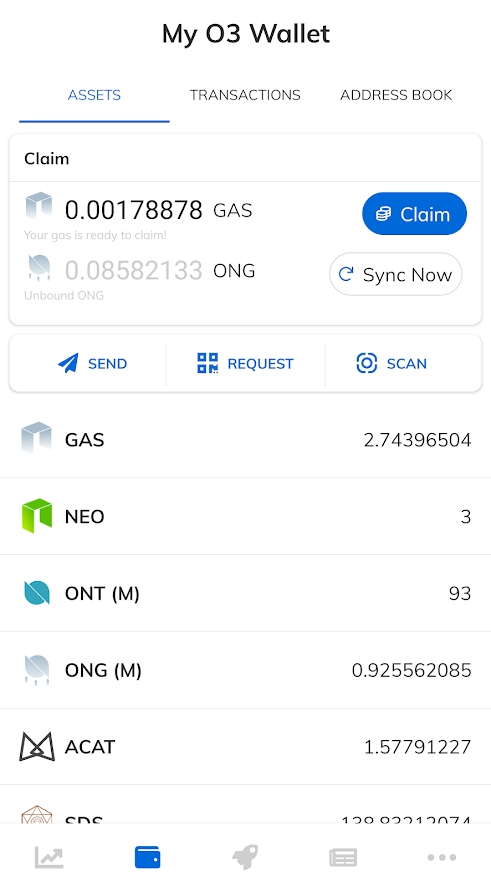 Unfortunately, we found the wallet to be slower than Neon at times. Additionally, it has potentially unwanted NEO news articles embedded.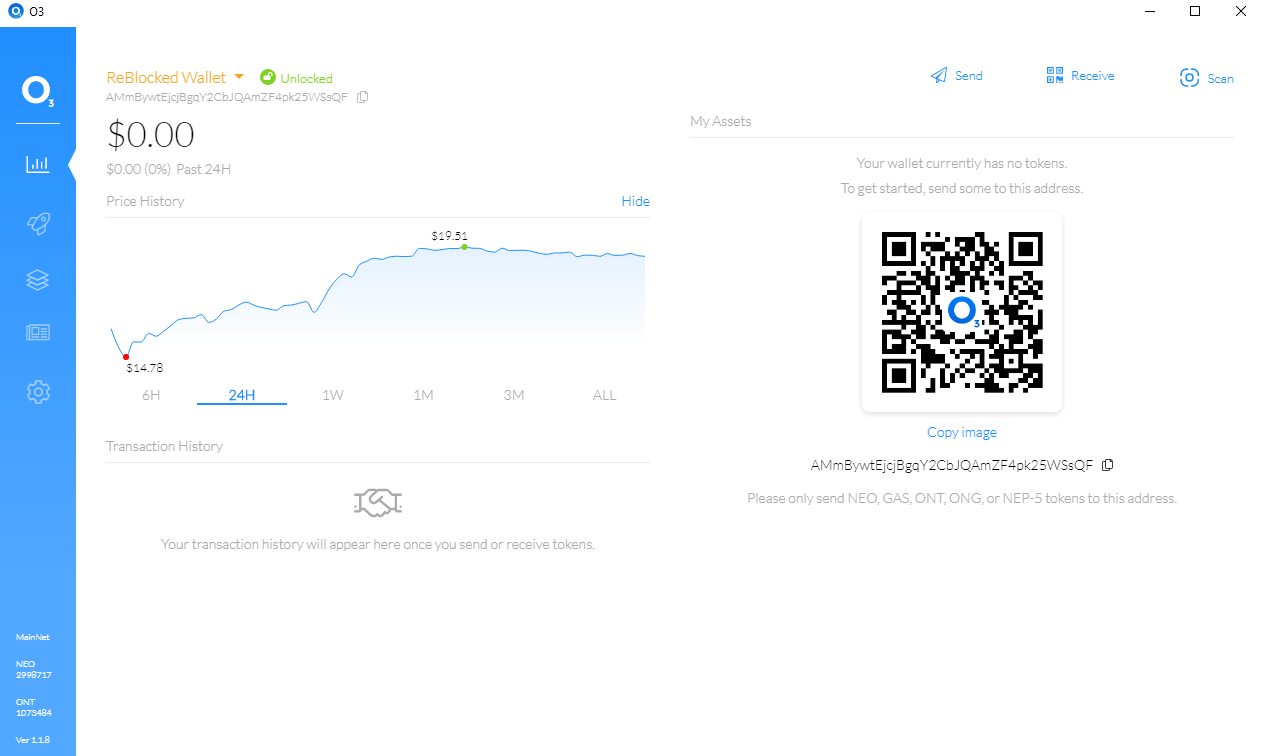 Other Options
The NEO website lists a few other clients, mostly light wallets. If you're unhappy with our selection, be sure to take a look. Many are available on mobile and the web.
Developers on NEO should download the NEO-CLI, a command-line application that can store and use NEO tokens.
Our Choice
Although the convenient route is to purchase NEO with Changelly, Binance isn't one of the top exchanges by coincidence. Their fees are five times less, and they will allow you to withdraw plenty of NEO without verification.
Similarly, storing NEO on NEO Tracker takes less than a minute to configure, but Neon wallet was our favorite. It's fast, secure good-looking software.
If you have any questions or difficulties, let us know in the comments.