Is Siacoin a Cryptocurrency?
Siacoin is the tradeable token used in Sia's decentralised cloud storage service.
Founded in Boston during 2014, Sia connects users who need computer storage with those willing to offer it through its decentralised service.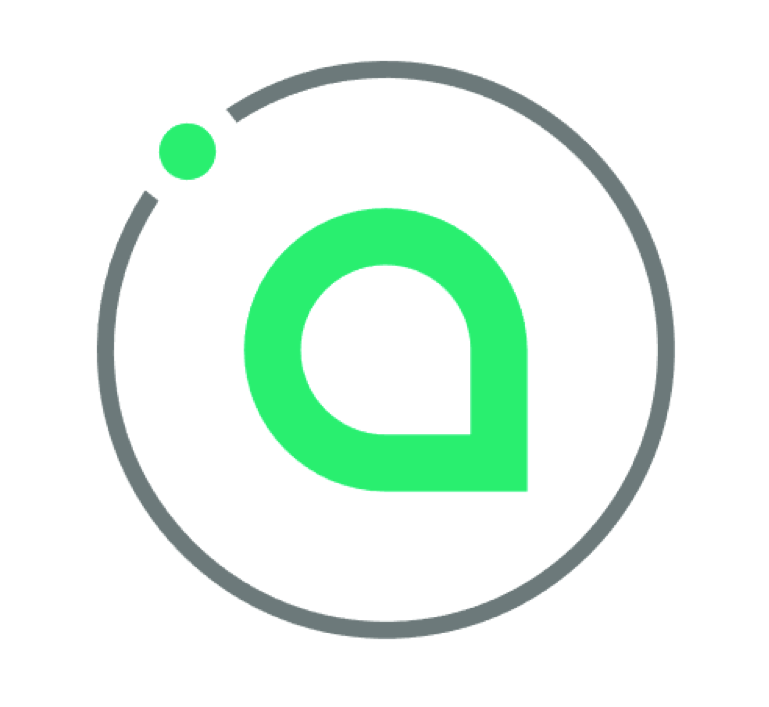 Holders of Siacoin can either spend their tokens on Sia's storage network or hope for long-term price appreciation. If Sia's use increases, so will the demand for Siacoin.
The prospects are huge, with the cloud computing market already reaching into the hundreds of billions of dollars.
So whilst Siacoin isn't a cryptocurrency, it can still be traded and its value comes from the storage network powered by its blockchain. Despite its potential as an investment, keep in mind that Siacoin is not intended to be a speculative asset.
You can learn more about the technology on Sia's official website..
1 — Where to Buy Siacoin
Siacoin isn't available on most exchanges, so you might need to step outside your comfort zone.
The three main options in the West are:
Bittrex, a US-based crypto exchange and is currently the largest English Siacoin exchange. It only supports crypto-to-crypto trades, but has one of the longest and cleanest security records.
Poloniex, which is also US company. It offers the lowest fees of the three, but you'll have to go through a long verification process to get trading.
Shapeshift, a simple and instant solution. Unfortunately you'll be charged for the convenience through high fees, and can't store your funds on the site.
The latter two are listed as preferred exchange options on the official Sia website, but Bittrex is also considered to be a reputable exchange.
Exchange Comparison
Verification Requirements
Identity verification can be a frustrating process, and most are apprehensive about handing over too much information online.
Here's a breakdown of what each exchange requires before you can buy and sell Siacoin on their platforms.
| | | | |
| --- | --- | --- | --- |
|   | Bittrex | Poloniex | Shapeshift |
| Full name | ✔ | ✔ | |
| Street address | ✔ | ✔ | |
| Email address | ✔ | ✔ | |
| Date of birth | ✔ | | |
| Identification document | ✔ | ✔ (must use a webcam) | |
| Phone number | | ✔ | |
Identification documents are pictures of your passport, driver's liscense or birth certificate. On Poloniex, you need to take the picture using the webcam atttched to your computer. It can take multiple weeks for your identification documents to be verified.
Verification winner: Shapeshift
Exchange Fees
Fee structures between the three exchanges vary, but we've broken down the relevant fees for you:
Bittrex:
25% transaction fee
25% bank wire fee
Variable network mining fee
Poloniex:
25% transaction fee, unless you are are a maker or trade in high volumes
Variable network mining fee
Shapeshift:
5% markup on the exchange price
Flat 10 Siacoin mining fee 
Fee winners: Bittrex and Poloniex
Ease of Use
Shapeshift is built for investors who want to adjust their portfolio without placing an order on a traditional exchange. Although their fees are higher, the process of converting cryptocurrencies is simple and will take less than a minute.
In contrast, Bittrex and Poloniex are traditional exchanges meant for cryptocurrency traders. Although they are still accessible to investors, the process takes much longer.
Ease of use winner: Shapeshift
Online Wallets
Siacoin requires a specialised wallet to hold funds. However, you can avoid having to use one of these by leaving your Siacoin on the Bittrex or Poloniex exchange.
We'll explore the other available wallets further in the latter half of this guide.
Online wallets: Bittrex and Poloniex
Currency Options
Bittrex has Siacoin in trading pairs with Bitcoin, Ethereum and USD Tether
Poloniex only has a Siacoin/Bitcoin market
Shapeshift will let you deposit 40+ cryptocurrencies
If you want to deposit fiat currency, you can use Bittrex's over the counter service to purchase BTC, ETH or USDT with a wire transfer. Each of these then have a trading pair with Siacoin, but keep in mind that Bittrex
Summary
| | | | |
| --- | --- | --- | --- |
|   | Bittrex | Poloniex | Shapeshift |
| Easy verification | | | ✔ |
| Low fees | ✔ | ✔ | |
| Easy to use | | | ✔ |
| Online wallet | ✔ | ✔ | |
| Deposit options | BTC, ETH, USDT | BTC | 40+ cryptocurrencies |
| Fiat deposits | ✔ | | |
Overall, Shapeshift is a great option for purchasing Siacoin. You can deposit most popular blockchain tokens, and the process is simple and instant.
However if you want to minimise fees or deposit fiat, Bittrex is for you.
Poloniex isn't too appealing in this case, but they do offer peer-to-peer margin trading and can offer you lower fees if you trade in a very high volume.
2 — How to Buy Siacoin
Buying Siacoin on Bittrex
Step 1. Register for a Bittrex account.
Step 2. Provide Bittrex with some basic information to verify your account. You can do this from Settings → My Profile and Settings → Identity Verification.
Step 3. From the wallets tab, tap the green up arrow next to BTC, ETH or USDT and press 'new address'. Transfer the funds from your existing wallet to the address given. Alternatively, make a fiat deposit or buy some with a bank wire.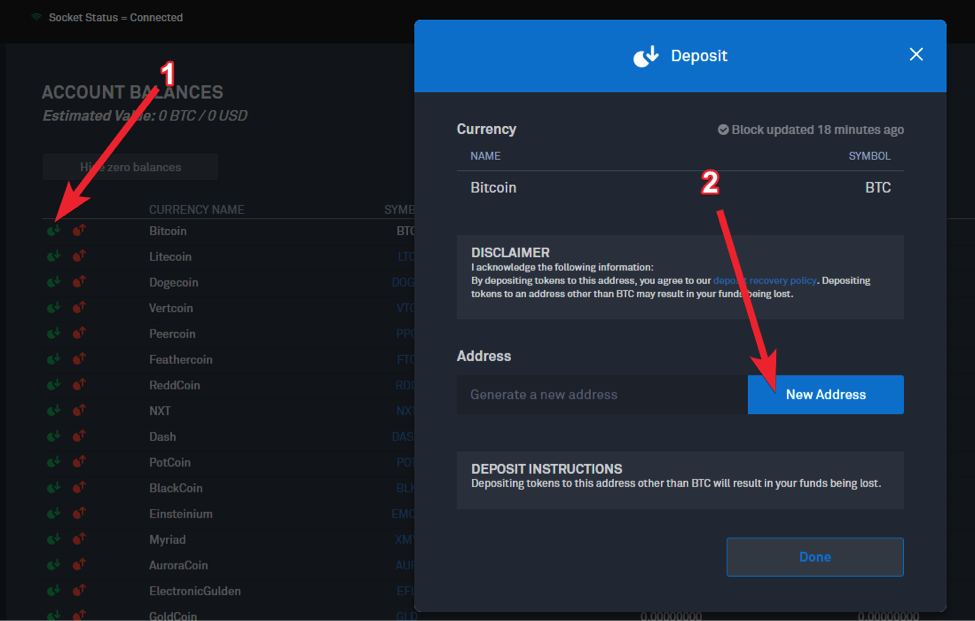 Step 4. From the Markets tab, search for the appropriate trading pair between the currency you deposited and Siacoin (called SC in Bittrex). For example, use the BTC/SC trading pair.
Step 5. Scroll down to the orders section. It's easiest to choose a limit order and set the bid price to 'Ask' from the dropdown. Then just enter the quantity of Siacoin or your available Bitcoin and hit Buy Siacoin.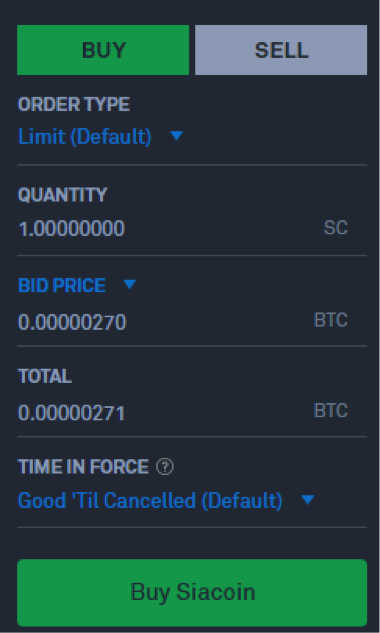 You can withdraw your Siacoin to your own wallet from the Wallets tab by pressing the red down arrow next to Siacoin.
Buying Siacoin on Poloniex
Step 1. Get a hold of some Bitcoin to deposit.
Step 2. Create a Poloniex account and run through the verification process. Once complete, log into your Poloniex account and head to 'Balances' → 'Deposits and Withdrawals'.

Step 3. Find Bitcoin then press the 'Deposit' button. Copy the deposit address shown to you.

Step 4. From your wallet with the Bitcoin, make a transfer of your desired amount to your unique deposit address. Do not the deposit to the address pictured above.
Step 5. Next, you'll need to make the transaction. Head to the BTC/SC exchange and enter your desired volume under Buy SC.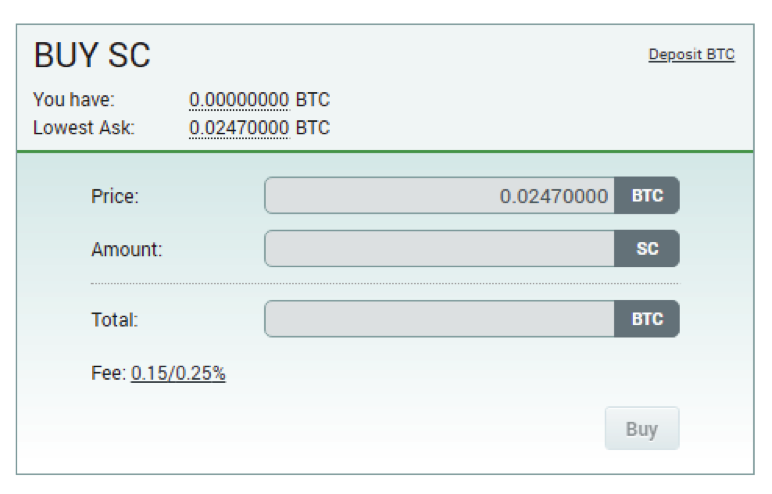 You can now keep these funds on the Poloniex system or send them to your personal wallet from the 'Deposits and Withdrawals' page.
Buying Siacoin on Shapeshift
Step 1. Head to the Shapeshift website and select your coins.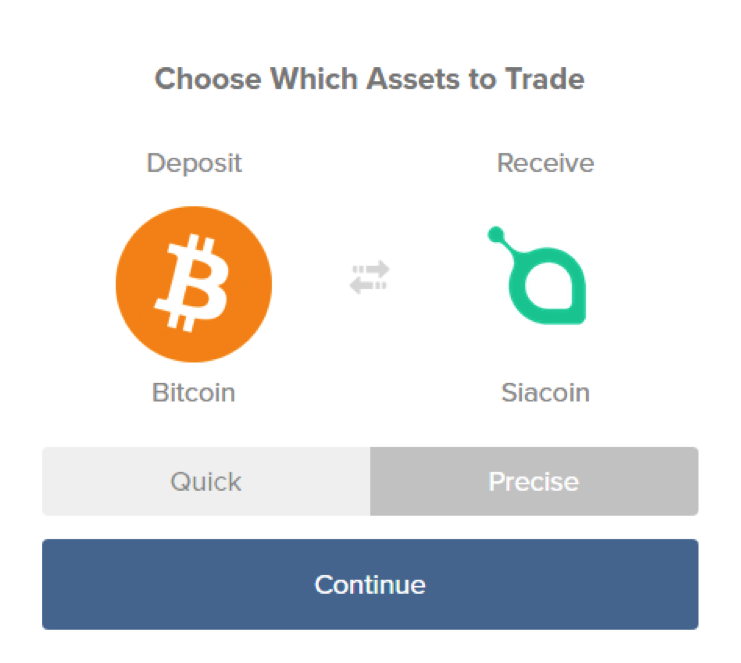 Step 2. Hit 'Quick' for an easy payment or 'Precise' to lower your fees and increase your trading limit.
Step 3. Enter the addresses of your Bitcoin and Sia wallets. If you chose Precise, also enter the amount you're about to deposit. Be quick, on precise you only have 5 minutes to finish the transaction.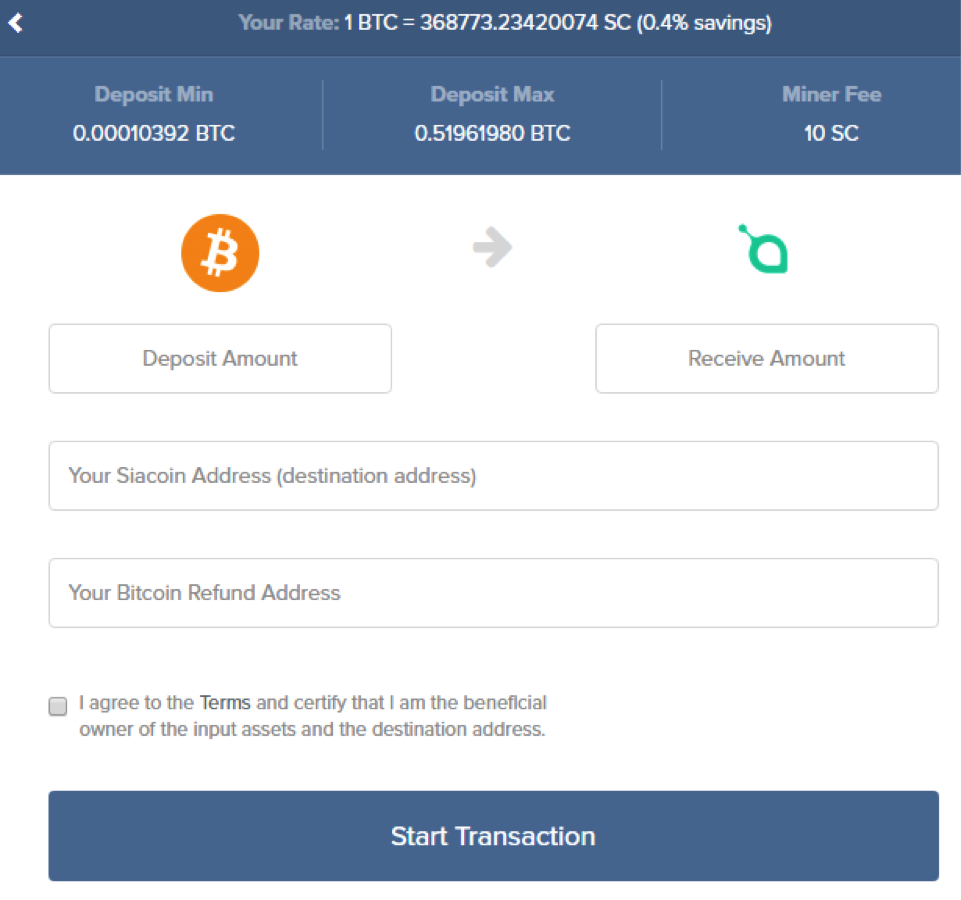 3 — Where to Store Siacoin
Siacoin is far from your normal cryptocurrency, so your current crypto wallet won't support holding Siacoin.
Instead, you'll either need to choose between the official Sia platform, a cold storage option made by a Sia developer or just leaving it in the wallet of the exchange you bought it off.
A Quick Wallet Comparison
Official Sia Platform
The official Sia platform is a desktop application that you can use to send and receive Siacoin, as well as utilize Sia's storage services.
By downloading the application you create a node on the network, so you'll need to wait until your computer synchronises with the blockchain before you can do anything.
Advantages:
Ready to use with the Sia platform
Synchronised with the Sia blockchain
Safe
Backup private key in case of computer failure
Optional password
Disadvantages:
Will incur a transaction fee when moving funds to and from an exchange
Takes up to 10 gigabytes of space on your computer
Requires a blockchain synchronisation process that can take up to 24 hours
Sia Cold Storage Application
The Sia Cold Storage application is an unofficial, open-source project made by a Sia core developer.
It will generate you a private key to access your funds on the official Sia network, and a list of public keys. Each public key lead to the address associated with the private key so you can receive funds.
Advantages:
Extremely safe
Backup seed key
Disadvantages:
Takes some time to set up
Will incur a transaction fee when moving funds to and from an exchange
Requires the official Sia platform to send funds
Bittrex/Poloniex Exchange Wallet
Funds left on exchange wallets are usually be placed into temporary cold offline storage for security purposes.
However, cryptocurrency exchanges have been hacked in a number of high-profile cases over the years, so it's usually recommended that you move funds out.
Advantages:
Avoid transaction fees
Convenient
Ready to trade
Disadvantages:
Unsafe, as hacks on cryptocurrency exchanges are common
Using The Wallets
How to Use The Official Sia Platform
Step 1. Download the Sia UI program from the official website. Unzip the file into another folder, but make sure the drive it's on has a bunch of free space; the files Sia requires can reach 10 gigabytes.
Step 2. Run Sia-UI.exe. You'll need to be patient because the wallet can take up to 24 hours to sychronise with the SIa blockchain. If you're not synchonised, all you'll be able to do is look around the platform.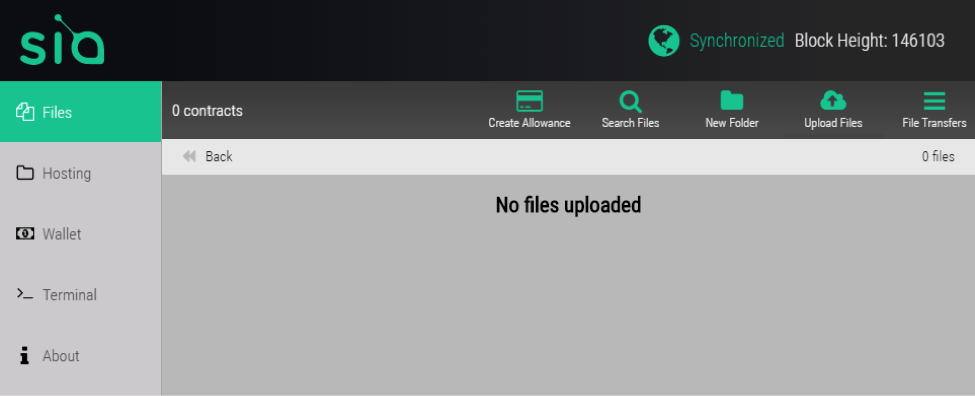 Step 3. Hit the wallet tab and create a new wallet. Remember to write down your seed, which acts as a backup in case something happens to your computer. Creating a password is recommended by the Sia developers.
Step 4. Hit Receive Siacoin from the wallet tab to see the Siacoin address you need to give to exchanges.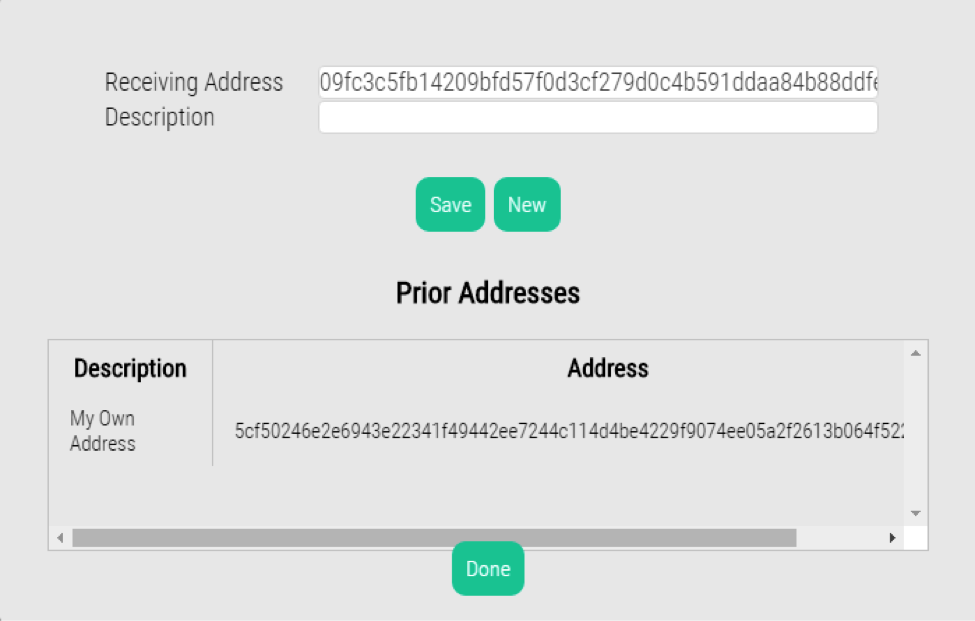 How to Use The Sia Cold Storage Application
Step 1. Head to the Sia Cold Storage Github page and download the appropriate .exe file for your operating system.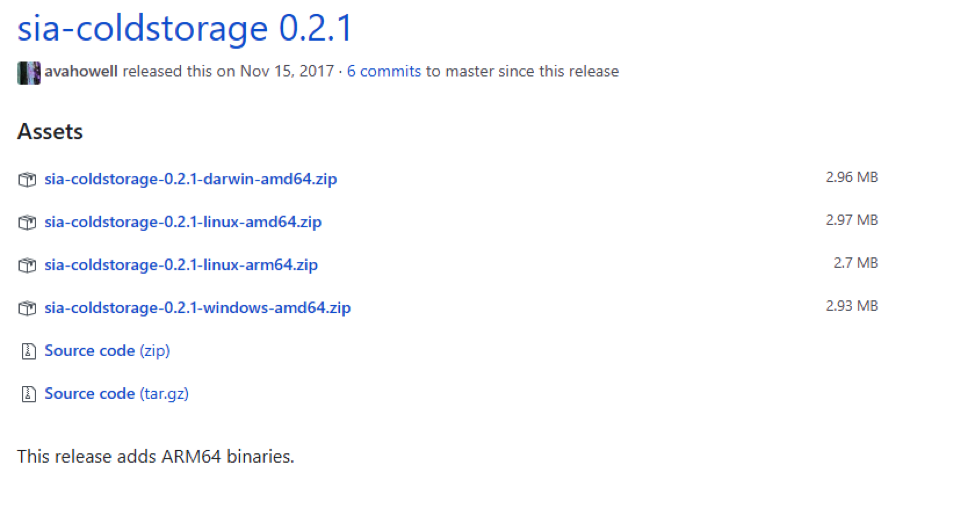 Step 2. Unzip the folder and run the .exe inside.
Write down the seed you see, as you'll need it on the official Sia platform to send any funds you receive.
Use any of the addresses given to withdraw Siacoin from an exchange.