Is Factom a Cryptocurrency?
Before you get started on the Factom journey, it's a good idea to make sure you investigate exactly what a Factoid (the principal currency token of the Factom project) is.
Factoids, in contrast to other blockchain tokens such as Bitcoin, are not intended to be used as a form of currency.
Instead, the Factom team's whitepaper outlines that the Factoid, whilst being "Factom's tradable token", are used to create Entry Credits which allow entreprises to use the Factom blockchain system.

The Factom network has a wide range of applications in the mortgage, insurance, certification and digital identity industries. Since the businesses and organisations who use Factom purchase the Factoid token to use, they hold intrinsic value. This means that whilst Factom isn't intended to be used as a day-to-day currency, it can still be treated as a digital asset to invest in.
This all means that Factom isn't as well integrated into the popular cryptocurrency exchanges, and you won't be able to buy it from somewhere like Coinbase.
1 — Finding a place to store your Factoids
Since Factom isn't like a normal cryptocurrency, your current cryptocurrency wallet will likely not support holding Factoids.
Instead, four main options look appealing: keeping your funds in an exchange wallet, the Exodus Eden wallet, the Factom Foundation Wallet or the PaperMill paper wallet.
A quick wallet comparison
Exchange wallets

are great for holding start term or for storing smaller amounts.
The

Factom Foundation Walle

t is messier, but is much more secure and is well suited for enterprise use.
PaperMill

is for the permanent, long-term storage of Factoid.
Exchange Wallet
Pros:
There's no need to transfer funds to another wallet, sometimes avoiding fees
Cons:
Insecure and can be lost if the exchange shuts down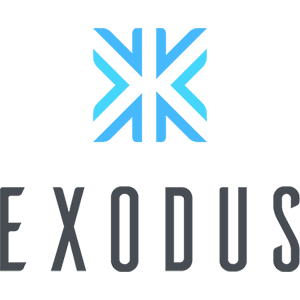 Pros:
Modern, professional design
Cons:
Lack of security features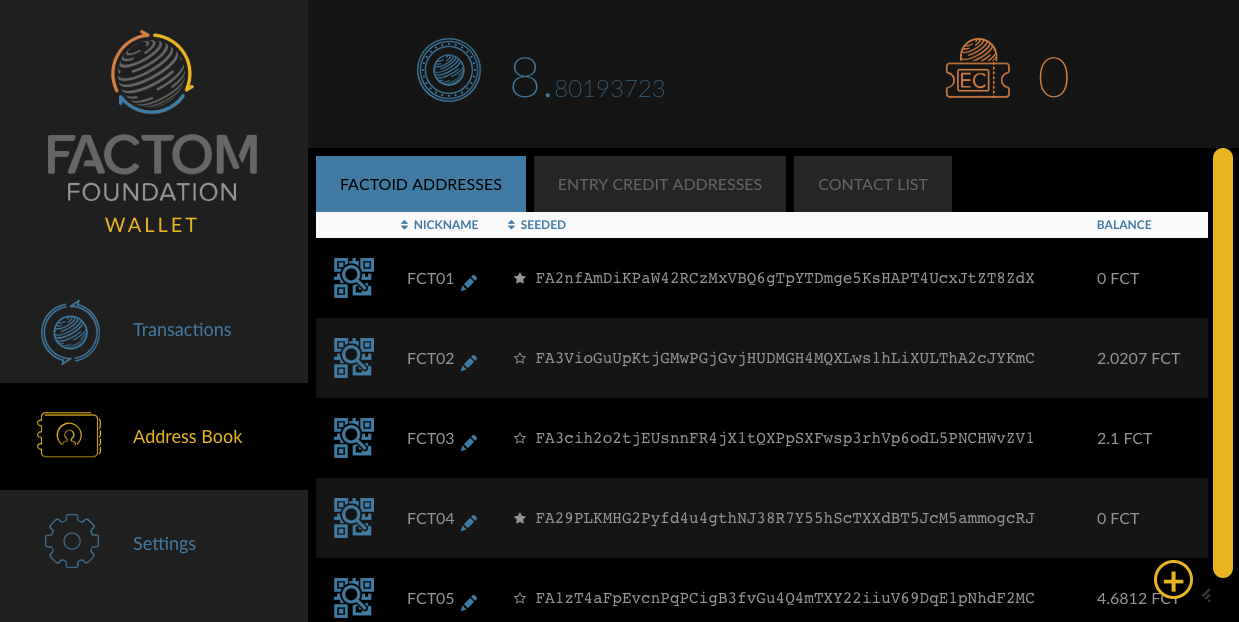 Pros:
Creates your own node in the network
Cons:
Requires a large, several hour download to sync
Pros:
Is as secure as the paper it's printed on
Cons:
Can't send or receive Factoids; only stores them
Using Exodus Eden
The Exodus Eden wallet is a beta branch of the popular Exodus wallet used for testing. Eden supports many more cryptocurrencies than Exodus, but there's no customer service. If you face any issues, you'll have no support line but the Exodus community.
Step 1. Head to the official Exodus Eden page and scroll to the bottom. Tick the checkbox and select the appropriate download for your system.

Step 2. Once you have the program downloaded and installed, you'll open up the Eden wallet. In terms of appearance and user interface, Eden is identical to the regular Exodus wallet. This results in a good-looking and easily navigable application.
Hit the plus button in the top-right of the client to add a new cryptocurrency to the wallet.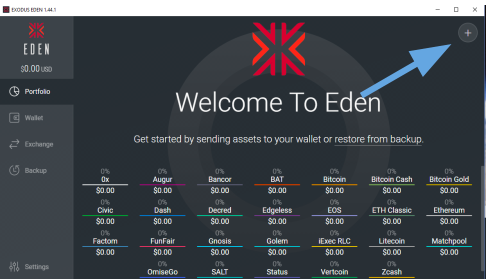 Step 3. Scroll down about halfway until you see the Factom icon and tick the box next to it in order to add it to your wallet.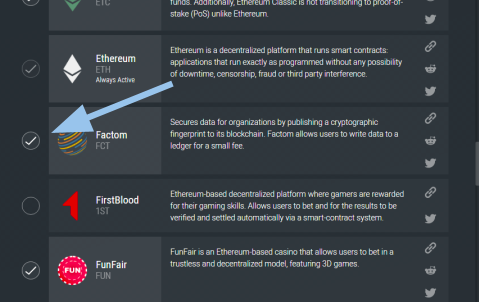 Step 4. Press 'Wallet' from the left sidebar and then 'Receive'.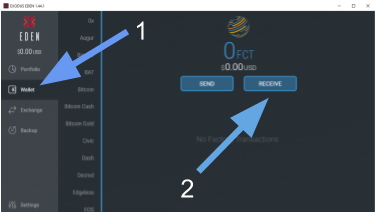 Step 5. Copy the wallet address.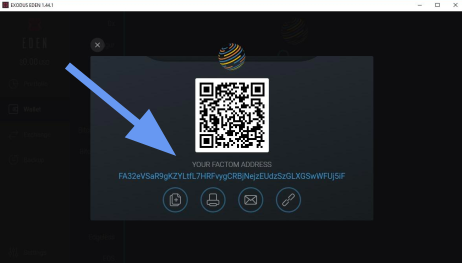 The Factom Federation Wallet
The Factom Federation wallet is far more secure, but is a bit harder to use and set up.
For a full usage guide, follow the instructions on the Factom wallet website.
Step 1. Download the wallet from their GitHub page by pressing the appropriate download link for your operating system.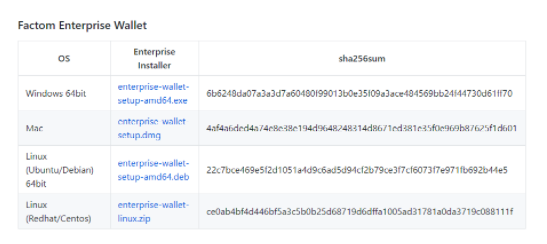 Step 2. Run through the installation and sync process, as outlined in the Enterprise Wallet website.
Step 3. From the 'Address Book' button on the left sidebar, press the plus in the bottom-right.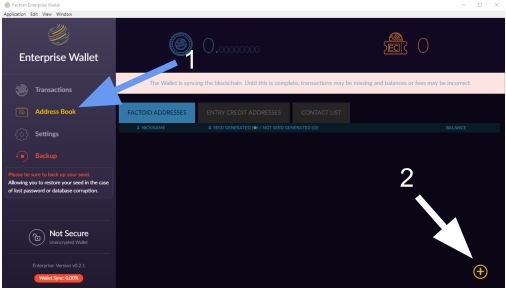 Step 4. Copy the randomly generated Factom address.
Setting up a Factom PaperMill Wallet
Creating a PaperMill wallet can only be done after purchasing and storing Factom in another wallet (such as Exodus Eden) so we won't cover how to make them here.
If you're interested in learning about how to make them, the Factom PaperMill site and the Factomize PaperMill tutorial will be your two most valuable resources.
2 — Purchasing Factom
Only a few exchanges currently offer Factom to their customers, so you might need to again step outside of your comfort zone to get a hold of some currency.

Source: CoinMarketCap markets
Your options are quite limited, so we'll break down our top three exchange picks for Factom.
Poloniex

, the market leader for Factom in the west.
Bit-Z

, a Hong-Kong based exchange and is the leader by Factom trading volume.
ShapeShift

is a smaller platform built for ease of use.
If you're curious about the other ones on the CoinMarketCap list, UpBit is a Korean exchange without an English translation and Bittrex currently only accepts corporate customers.
In the next section, we'll point out what to look for in an exchange, and provide you with all the information you need to make your choice.
Comparing the exchanges
Exchange Privacy
We took a look at the identification requirements of each platform so you know what to expect; privacy is a key point to consider when using an online exchange.
| | | | |
| --- | --- | --- | --- |
| | Poloniex | Bit-Z | ShapeShift |
| Full name | ✔ | | |
| Street address | ✔ | | |
| Email address | ✔ | ✔ | |
| City | ✔ | | |
| Post code | ✔ | | |
| Phone number | ✔ | | |
| Identification document | ✔ | | |
| Identification via webcam picture | ✔ | | |
If you're not comfortable providing information, then Poloniex isn't for you.
Poloniex is notorious for their long and difficult ID verification that requires your browser to have access to a webcam, and the plethora of information they gather intrudes on privacy and takes plenty of time. A warning displayed on their website states that their ID verification process could take multiple weeks.
Bit-Z works on a tiered verification system; users who provide more personal information have higher trading limits and can use voting coins. However, for a small Factom purchase, all you'll need is an email address.
Finally, ShapeShift asks for none of your personal information, and the entire process is over in seconds.
Privacy winner — ShapeShift
Exchange Fees
In any exchange, cryptocurrency or not, the fees associated with the system are critical. Each of the three mentioned exchanges have completely different fee structures, so we've broken them down for you.
Poloniex:
0.25% fee on any purchase
Bit-Z
0.10% fee on any purchase
ShapeShift
Charges a 0.1 FCT (presently $3.30 USD) mining fee on delivery
Poloniex comes way out ahead here, with Bit-Z close behind. Unless you're making a large purchase, the cost of ShapeShift's convenience is also on clear show here.
Fees winner — Poloniex
Exchange Factom Price
We took a quick sample of the market on one particular day to make sure the prices across the exchanges were fair.
Factom price sample:
Bit-Z:

2.83 milli Bitcoin

Poloniex:

2.84 milli Bitcoin

ShapeShift (including markup):

2.92 milli Bitcoin

Shapeshift (excluding markup)

: 2.90 milli Bitcoin
The prices on the two traditional trading exchanges, Bit-Z and Poloniex, had similar competitive prices listed.
However, the Shapeshift price was a whopping 2.5% higher. If you're looking to sell your Factom soon, then it could definitely eat into your profits.
Price winners – Bit-Z and Poloniex
Traditional Exchanges
Traditional exchanges allow show live oscillations in the prices of two assets, such as Bitcoin and Factom. Bit-Z and Poloniex are two examples of these. They promote low exchange fees to allow traders to buy and sell cryptocurrencies on a short-term basis.
Cryptocurrency trading on these platforms is analogous to existing markets such as the USD/Euro exchanges, in which day trading is commonplace.
A major advantage of using a traditional exchange that the Bit-Z and Poloniex sites let you view historical price trends to see how Factom is performing against both Bitcoin and the US dollar.
If you're using one, also consider that they offer digital wallets to store funds. They are normally only used temporarily whilst trading, but you can leave cryptocurrency on there if you prefer.
If you have any interest in day-trading Factoid for taking advantage of a traditional exchange, Bit-Z and Poloniex are your best options.
Traditional exchanges – Bit-Z and Poloniex
Lowest Minimums
Most exchanges have minimum trade and withdrawal requirements so they're not overwhelmed by many smaller transactions.
In terms of our three competitors:
Poloniex and Bit-Z have low trade minimums that shouldn't amount to much more than 1 USD.
ShapeShift has varying fees for different currencies and times, but could amount to over 100 USD.
Lowest minimums – Poloniex and Bit-Z
Our recommendation
Here's our final break-down of the main differences.
| | | | |
| --- | --- | --- | --- |
| | Poloniex | Bit-Z | Shapeshift |
| Fees | ✔ | | |
| Privacy | | | ✔ |
| Ease of use | | | ✔ |
| Competitive price | ✔ | ✔ | |
| English support | ✔ | | ✔ |
| Web wallet | ✔ | ✔ | |
| Verification speed | | ✔ | ✔ |
| Traditional Exchange | ✔ | ✔ | |
| Lowest Minimums | ✔ | ✔ | |
The winner isn't clear, with important wins for each platform. In fact, all three exchanges could be recommended to different types of traders depending on their goals.
To summarise, here's the main selling point of each.
Buying on Polinex will take some time, but is the economic choice.
Bit-Z customers can swap coins immediately at a fair price, but the lack of support is a worry.
Shapeshift is expensive but quick and easy.
Using Poloniex to Purchase Factom
Step 1. Get a hold of some Bitcoin or another cryptocurrency supported on the Polinex exchange. Polinex supports nearly 100 tokens.
You can get a hold of Bitcoin with your local currency by using an exchange such as Coinbase.
Step 2. Create a Poloniex account and run through the verification process. Once complete, log into your Poloniex account and head to 'Balances' → 'Deposits and Withdrawals'.

Step 3. Find the cryptocurrency you want to deposit then press the 'Deposit' button. Copy the deposit address shown to you.

Step 4. From your wallet with the existing cryptocurrency, make a transfer of your desired amount to your unique deposit address. Do not use the deposit address of anyone else (such as the one in the image above).
Step 5. You'll next need to exchange your Bitcoin to Factom. You can do this by heading to the BTC/FCT exchange page. Just drop in the amount of Factoid you'd like to purchase or the volume of Bitcoin you want to spend and hit 'buy'.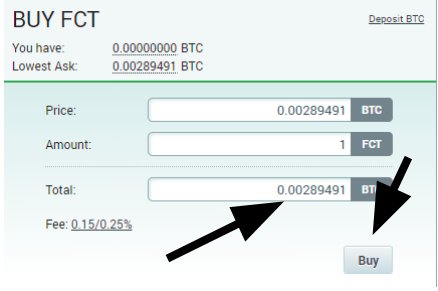 Step 6. You can now keep these funds on the Poloniex system or send them to your personal wallet from the 'Deposits and Withdrawals' page.
Using Bit-Z to Purchase Factom
Step 1. Make a Bit-Z account. All you'll need is an email address!
Step 2. Next, you'll need to deposit some Bitcoin on the site. You can either do this by transferring it from a Bitcoin wallet or buy it over the counter with Chinese Yuan through Alipay.
To deposit Bitcoin, tap 'Funds' in the navigation bar and then press the 'Deposit' button next to Bitcoin.

From here, a Bitcoin wallet address will be displayed. Send your Bitcoin to this wallet and your funds should appear in the Bit-Z site.

Only deposit BTC to the address you see.
Step 3. The final step to obtaining the Factoids is to head to the FCT/BTC exchange.
Insert the amount of BTC you deposited into the top box and the process will work itself out.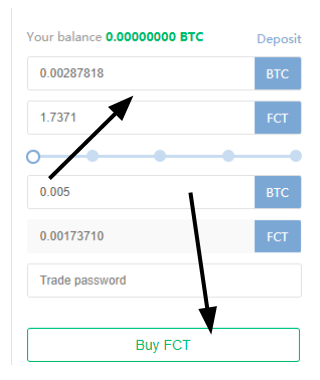 Step 4. Once you have your FCT, you can then withdraw it to your wallet from the same 'Funds' tab or keep it on the site.
Using ShapeShift to Purchase Factom
ShapeShift is by far the easiest exchange when it comes to picking up alternative cryptocurrencies.
Step 1. In order to buy Factoids on ShapeShift, you'll need some Bitcoin or one of their supported currencies.
Step 2. Head to the ShapeShift website and select Bitcoin and Factoids. Once you're done, just put in both a Bitcoin and Factom address and you'll be guided through the deposit process.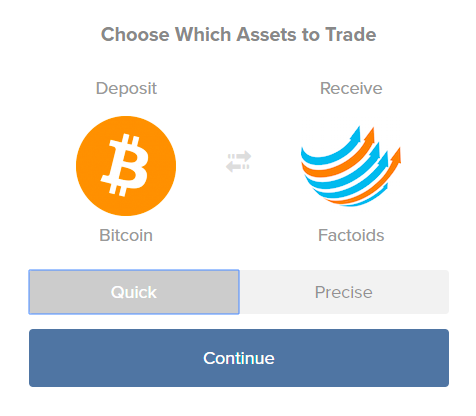 Your Factoids should be directly sent to your Factom wallet.
3 – Transferring back to Bitcoin
If you want to withdraw your investment, you can do so just like trading for Factom.
Selling Factom on Poloniex and Bit-Z
Step 1. On Poloniex, log in and head back to the 'Balances' tab. On Bit-Z, this is the 'Funds' page. Once there, press 'Deposit' next to Factom and copy the deposit address.

Step 2. Then, back on your wallet of choice send Factom to the unique address given to you. This address will be different to the one shown above.
Step 3. With your Factom back into the system, you can now head back to the Bit-Z FCT/BTC exchange or the Poloniex FCT/BTC exchange, this time using the 'sell FCT' box.
Selling Factom on Shapeshift
Step 1. Head back to the ShapeShift landing page. This time, select to deposit Factoids and receive Bitcoin.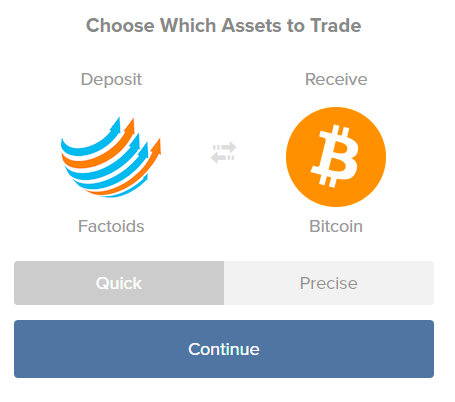 Step 2. Enter your Bitcoin wallet address and your existing Factom one in case a refund is needed and start the transaction.
Exchanges to watch into the future
As of the time of writing, the three mentioned exchanges are your best options. However, there are two other major exchanges which might begin offering Factom in the near future.
Binance
By trading volume, Binance is the largest cryptocurrency exchange. The listing of Factom on it would open up the token to the masses and simplifying the purchase process for many.
In late 2017 the Factom team announced that they would attempt to get listed to Binance.
Paul Snow, Factom CEO, commented that "it's very important that we get added to Binance. The other exchanges (Bittrex & Poloniex) have been going downhill. Binance is the most reliable exchange at the moment and it would be very beneficial to all FCT holders if we are added to it".
Although we don't have a response from Binance yet, some growth in the Factom coin would make it hard to ignore.
Bittrex
Bittrex is another huge exchange that already offers BTC/FCT trading. However, in late 2017 Bittrex was closed to the public due to heavy load and now only facilitates corporate trading.
Bittrex is expected to open back up to the public but there is currently no date on the reopening. You can use the Telegram app to be notified when it does.
In the meantime, we'll have to stick to the three mentioned above.